Price: from UAH 250
Deadlines: from the 1st day
3D printing
FDM 3D printing:
Price for 1 gram
Types of materials
300 microns
200 microns
100 microns
50 microns
20 microns
PLA plastic                                               (more than 30 colors)
4,9 UAH
7 UAH
8 UAH
9,5 UAH
14 UAH
ABS plastic                                            (more than 30 colors)
4,9 UAH
7 UAH
8 UAH
9,5 UAH
14 UAH
Durable plastics:                                    Co-Pet, PET, PLA+, ABS+, HIPS
5,9 UAH
8 UAH
9 UAH
11 UAH
15 UAH
High-strength plastics:                       Nylon, PC, PETG, POM, PP, Carbon 
7 UAH
10 UAH
12 UAH
16 UAH
18 UAH
Flexible plastics:                                  Primalloy, Flexible, TPU, Elastan
7 UAH
10 UAH
12 UAH
16 UAH
18 UAH
Decorative plastics:                           Wood, Bronze, Copper, Aluminium, Brass Filament
13 UAH
15 UAH
18 UAH
20 UAH
24 UAH
3D printing SLA / LFS (the prices for 3D printing SLA/LFS can be calculated upon request):
Types
Materials
Standard
Clear • White • Grey • Black • Model • Color Kit • Draft
Engineering
Grey Pro • High Temp
Hard: Rigid 10K • Rigid 4000
Tough & Durable: Tough • Tough 2000 • Tough 1500 • Durable
Flexible and Elastic: Flexible 80A • Elastic 50A
Jewelry
Castable Wax 40 • Castable Wax • High Temp • Grey
Medical
BioMed Clear • BioMed Amber • Elastic • Tough 1500 • Clear
3D printing SLS (price can be calculated upon request):
| | |
| --- | --- |
| Types | Materials |
| Engineering SLS Powders | Nylon 11 • Nylon 12 |
3DDevice provides a 3D printing service in our 3D printing center
You can order 3D printing from 1 piece to 1000 pieces of serial production and more.
The cost of 3D printing: from 4.90 UAH per 1 gram, depending on the complexity, weight and quantity of the product..
3D printing quality: from 15 – 20 microns; 50 microns; 100 microns; 200 microns; 300 microns or more.
The best 3D printing in Ukraine
We offer 3 types of qualitative 3D printing services:
FDM 3D printing is an additive technology in which molten 3D plastic is fed through an extruder and a three-dimensional object is built up layer by layer. This is the cheapest way to 3D print mock-ups, prototypes, decor items, logos, restoring machine parts, etc.
In SLA / LFS 3D printing, a layer-by-layer polymerization of a photopolymer (resin) with a high-precision laser beam takes place. This is a more expensive technology, but the quality and functionality of the resulting products is much higher. SLA 3D printing is used in engineering, jewelry, medicine, dentistry, small-scale production for the manufacture of molds for plastic injection, die making, design and prototyping.
In SLS 3D printing, a high-power laser sequentially sinters polymer powder into finished parts of complex shape, completely without the use of supports. This is an advanced technology with the help of which functional prototypes, as well as small and medium editions of finished products, including those made from biocompatible materials, are produced. We use for 3D printing SLS 3D printer Formlabs Fuse 1, the cost of production on which is an order of magnitude lower than its industrial counterparts.
Materials for 3d printing
☆ 3D printing with any kind of plastic at your request. The list of materials is listed in the table above.
☆ We will help you find the right material for your needs.
Printing is performed on professional 3D printers: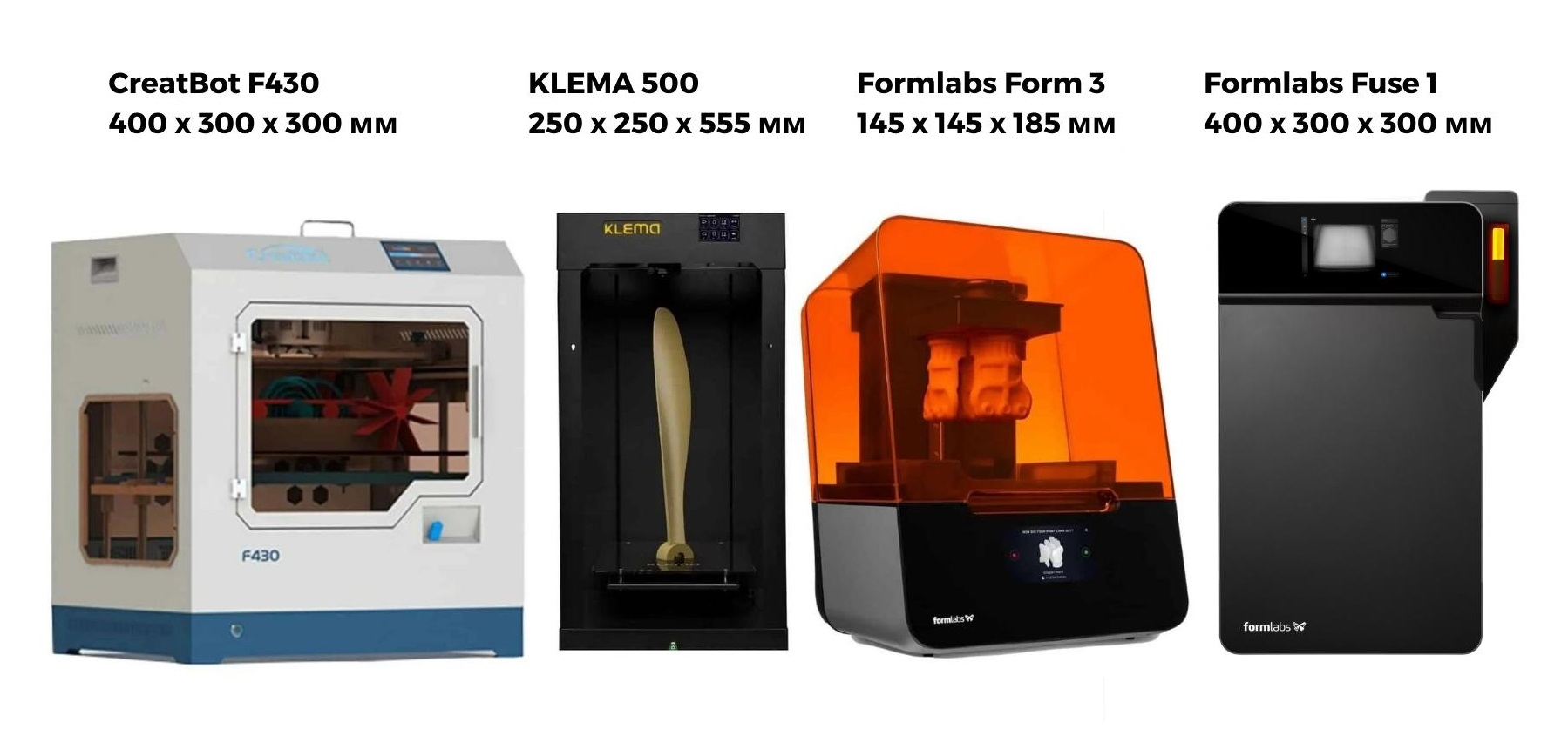 We offer only qualitative 3D printing on the best models of 3D printers. There is a large specter of professional equipment at our disposal, so you can be sure that your 3D model will be reproduced at the highest quality. At our company you can order different types of 3D printing: SLA, SLS, metal 3D printing in Ukraine and full color sandstone 3D-printing.
Our resources
The key conditions to good 3D printing are qualitative materials and reliable equipment. We have both of them and can offer you various ways to implement your boldest ideas. Our company has a rich experience not only in 3D printing but also in 3D modeling, prototyping and so on. We always discuss with the customer all ordering requirements and choose the best way to solve problems. Available materials:
Different 3D printing filament (ABS, ABS+, PLA, PLA+, PA, PET, CoPET, PETG, Flex, Elastan, Primalloy, Plastan, PVA, HIPS, Wood-filled and Metal-filled filaments, Fluorescent plastic and many others.
Metal (titanium, cobalt-chromium);
Full color sandstone;
Various photopolymer resins (flexible, strong, castable, dental and so on).
Terms of 3D-Printing production
Calculation within 1 hour. Launch of 3D printing on the day of approval. ☆ Urgent production of the product as soon as possible ☆
✓Guaranteed! ✓ If we – 3DDevice – did not meet the deadline for the 3D printing service, you are guaranteed to receive a 30% discount from us on your next order!
Order 3D printing
Easy enough:
by contacting us via ☎ "Our contacts"
send us a request to the email address info@3ddevice.com.ua
having come to our central office in Kiev.
3D printing online
3DDevice is the service where you can order 3D printing online. It is the easy procedure, which you can make in few clicks. For 3D printing you need just 3D model of required product. To leave your order fill special form on this page or send your model to us by email. Nothing wrong if you don't have ready 3D-model yet: we can make 3D-modeling for you from 150 UAH. There is nothing impossible to us: we can make every model according to your sketching and drawings.
Our central office places in Kiev and we also have branch in Kharkiv but there is no problem to make online order from any other city of Ukraine. We send ready products with different delivery services, so you can get your order anywhere in the country. Examples of our work presented in section "Portfolio". Contact us to become more information about 3D printing.
More examples