Description
3D printer Formlabs Form 3+
The Formlabs Form 3 3D printer is a product of the American company Formlabs, which has created a fully automated life cycle of industrial photopolymer 3D printing.
With a full set of Formlabs technology (Form 3 3D printer, Formlabs Form Wash, Formlabs Form Cure, Finish Kit) and using Formlabs proprietary resins, you will always be confident in the result of your 3D printing. The Formlabs ecosystem is the consistently reproducible result of your 3D printing – a true measurement of its quality!
Applications of the Formlabs Form 3 3D printer
Starting with this Form 3 3D printer, Formlabs began to focus on 3D printing exclusively with their resins. They fully check the quality of their formulas, form the technical specifications of polymers indicating the properties of the finished prints: temperature, impact, stretching, flexural, as well as their solubility in various liquids.
Thanks to the line of resins, which is constantly updated with new formulas, the coverage of tasks solved in the shortest possible time using the Form 3 3D printer is growing:
Engineering and Manufacturing: Functional Prototyping, Machine Parts, Injection Mold Making
Medicine: biocompatible instruments, devices, parts, models, anatomical models
Jewelcrafting: burn-out models, creation of master molds through vulcanization of rubbers, etc.
Training
Design, modeling, prototyping
Audiology
Architecture
Dentistry.
The next generation of industrial 3D printing
3D printer Formlabs Form 3. With advanced Low Force Stereolithography (LFS) ™ technology, Formlabs has completely redesigned photopolymer 3D printing to dramatically reduce the effort of the printing process.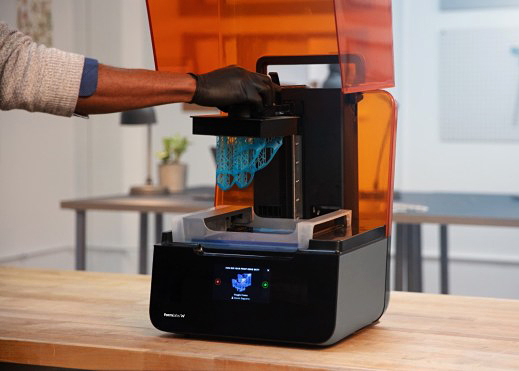 Low Force Stereolithography (LFS)™Uses flexible reservoir and linear backlighting to provide stunning print quality and printer reliability.
AccuracyThe specially designed light processing unit (LPU) inside the printer uses a compact lens and mirror system to produce accurate, reproducible prints.
High power density laserIt is passed through a spatial filter to ensure a clean laser spot.
Parabolic mirrorEnsures that the laser prints perpendicular to the build plane for consistent print quality across the build platform.
High frequency galvanometerProvides precise control and high speed.
Formlabs Form 3 features:
Continuous printingThe Form 3 continually monitors print performance so you can focus on bringing your most creative ideas to life. Built-in sensors help you maintain ideal printing conditions and send you alerts on the health of your machine.
Closed Loop Calibration:Optical sensors constantly adjust scale and power and can even detect dust.
Hassle-free material management:Switch between materials in seconds with a simple cartridge system.
User-replaceable components:The light processing unit, resin reservoir, rollers and optics window can be replaced in the field, reducing the need for printer replacement.
Specifications:
Model
Formlabs Form 3
Technology
LFS
Build Volume (W × D × H)
145 × 145 × 185 mm
Layer Thickness
25 – 300 microns
Laser Resolution
25 microns
Laser Power
One 250 mW laser
Laser Spot Size
85 microns
Resin Fill System
Automated
Printing material
Photopolymer resin
Number of lots for cartridges
1
Supports
Auto-Generated
Light-Touch Removal
System Requirements
Windows 7 (64-bit) and up
Mac OS X 10.10 and up
OpenGL 2.1
4 GB RAM
File Types
.STL and .OBJ file input
.FORM file output
Operating Temperature
Auto-heats to 35 °C
Temperature Control
Air-heated print chamber
Power Requirements
100–240 VAC
2,5 А
50/60 Hz
220 W
Laser Specifications
1 Light Processing Unit
EN 60825-1:2007 certified
Class 1 Laser Product
405 nm wavelength
250 mW power
85 micron laser spot
Connectivity
Wi-Fi (2.4, 5 GHz), Ethernet (1000 Mbit), USB 2.0
Printer Control
5.5" interactive touchscreen
1280 × 720 resolution
Country
USA
Printer Dimensions (W × D × H)
405 × 375 × 530 mm
Weight
17,5 kg
Included accessoires:
3D printer Form 3+
F3 Build Platform
F3 Finish Kit
F3 Resin Tank
PreForm software
Warranty – 1 year
3D printer Formlabs Form 3 buy in Ukraine