Description
3D printer Formlabs Form 3L
The Formlabs Form 3L 3D printer has the build volume five times bigger and twice more laser power of the Formlabs Form 3.
An affordable Form 3L large-format 3D printer trusted by professionals to produce large-sized and industrial-quality parts.
The applications of the 3D printer are very wide thanks to the constantly updated list of Formlabs functional resins:
Engineering and Manufacturing: Functional Prototyping, Machine Parts, Injection Mold Making
Medicine: biocompatible instruments, devices, parts, models, anatomical models, individual orthoses and prostheses
Jewelcrafting: burnable models, creation of master molds through rubber vulcanization, etc.
Education
Design, Modeling, Prototyping
Audiology
Architecture
Dentistry.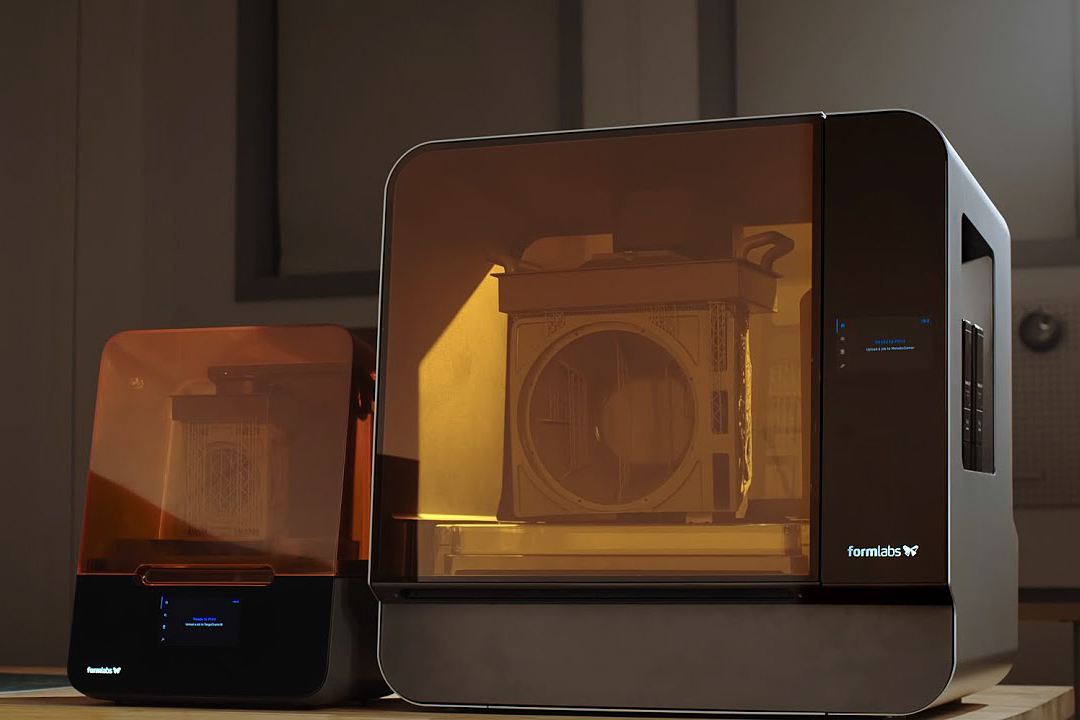 The next generation of industrial 3D printing
With advanced Low Level Stereolithography (LFS) ™ technology, Formlabs has completely redesigned photopolymer 3D printing to dramatically reduce the effort of the printing process.
Low Force Stereolithography (LFS)™
Uses flexible reservoir and linear lighting to provide stunning print quality and printer reliability.
Twice more powerful laser
The two spaced apart light processing units (LPU) inside the printer use a compact lens and mirror system for accurate, reproducible prints.
Two LPUs work simultaneously on an optimized print path to efficiently shine through parts of all sizes.
Each high density laser passes through a spatial filter to ensure a clean laser spot.
The parabolic mirror ensures that the laser prints perpendicular to the build plane, ensuring uniform print quality across the entire platform.
Features
Built-in sensors help you maintain ideal printing conditions and send you alerts on the health of your machine.
The Form 3L can contain two easily switchable resin cartridges, preventing interruptions when printing large print jobs.
Optical sensors constantly adjust scale and power and can even detect dust.
User-replaceable components
Light processing units, resin reservoir, rollers and optics window are field replaceable, reducing the need to replace the printer.
Specifications
Model
Formlabs Form 3L
Printing technology
LFS
Print area
335 × 200 × 300 mm
Layer thickness
25 – 300 micron
XY Resolution
25 micron
Laser power
Two lasers with a power of 250 mW
Laser beam size
85 micron
Resin filling system
Automatic
Printing material
Photopolymer resin
Number of lots for cartridges
2
Supports
Autogenerated
Light-Touch Removal
System requirements
Windows 7 (64-bit) or later
Mac OS X 10.10 or later
OpenGL 2.1
4 GB of RAM
File types
.STL and .OBJ input file
.FORM Output File
Working temperature
Auto heating up to 35 °C
Temperature control
Air Heated Print Chamber
Power requirements
100-240 VAC
7.5 A
50/60 Hz
650 Wt
Laser characteristics
EN 60825-1: 2007 certified Wavelength 405 nm

Power 250 mW

Laser spot 85 microns (0,0033 in.)

Connection
Wifi, Ethernet и USB 2.0
Printer control
Interactive touch screen 5.5″
The country of manufacture
USA
Dimensions
775 × 520 × 735 mm
Weight
54,4 kg
Form 3L Basic Wholesale Package includes:
Form 3L 3D printer
Form 3L Build Platform
Form 3L Resin Tank V2
Form 3L Finish Kit: Cleaning Tools
Form 3L Finish Kit: Rinse Bucket V2
PreForm Software
1 year warranty
3D printer Formlabs Form 3L buy in Kiev