Description
Industrial 3D printer Raise3D RMF500
The Raise3D RMF500 industrial 3D printer is a productive dual-extruder printer capable of printing large parts from lightweight and strong fiber-reinforced thermoplastics.
With a built-in 4-cartridge compartment with humidity control, high print speed, two reinforced independently printing extruders, high positioning accuracy, and a robust design, the Raise3D RMF500 printer is capable of continuously printing complex large-format composite parts with consistent industrial quality.
This is a high-class 3D printer for various design bureaus and small-scale productions, capable of speeding up the development and production of products or providing a cheap and quick replacement of parts that are not inferior in terms of the characteristics of the original.
Raise3D RMF500 large format printer – benefits
Unprecedented performance
Huge print volume of 500*500*500 mm.
A system of two independently printing IDEX silicone carbide extruders.
High print speeds of up to 500 mm/s are achieved using Hyper FFF™ technology.
Maximum carriage acceleration of up to 15,000 mm/s2 with Hyper filaments.
The RMF500 uses silicon carbide nozzles with a hardness of more than 60 HRC to resist abrasion of carbon fiber and fiberglass materials.
Raw material quality control and automation. Four built-in 2.5 kg cartridge compartments with humidity control and automatic coil switching ensure long, continuous printing.
Industrial quality: precise and repeatable products
High repeatable 3D printing accuracy: positioning in the axes: XY – 1 μm, Z – 0.09765 μm.
Reliable closed housing design with an all-steel frame – creates a microclimate in the workspace that eliminates vibrations and external factors.
Linear guides made of high-strength steel. Z-axis with a maximum load limit of more than 100 kg and a 50% lower deflection error.
Prints fiber-reinforced materials with paired support material. Print complex products with a smooth surface that is not marred by support structures.
Fast printing with composite materials
The FFF printing process for fiber-reinforced thermoplastic is changing manufacturing.
Fiber-reinforced thermoplastic is a new category of industrial materials with high performance properties – a valuable solution for high-tech industrial applications. As part of the growing trend, the development of FFF printing solutions for fiber-reinforced thermoplastics is expected to become more cost-effective, productive, and based on DNA materials. As such, FFF printing of fiber-reinforced thermoplastics allows for the creation of robust, industrial-grade parts and components that are lighter than equivalent metal and solid polymer components – highly desirable benefits for the automotive and aerospace industries.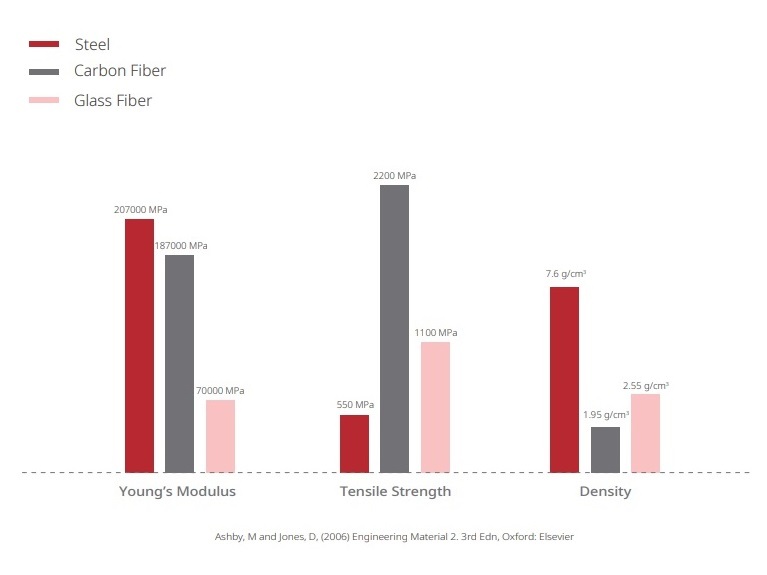 Raise3D RMF500 specifications
| | |
| --- | --- |
| Printing Technology | FFF |
| Layer Height (micron) | 50 – 750 |
| Build Field (mm) | 500*500*500 |
| Build Field For Dual Printing (mm) | 500*500*500 |
| Ø Of Plastic (mm) | 1,75 |
| Maximum Nozzle Temperature (°C) | 330 |
| Number Of Extruders | 2 |
| Chamber Type | Closed |
| Filament Chamber Type | Closed |
| Heating The Chamber | No |
| Plastic Drying | Yes |
| Autocalibration | Yes |
| Feeder Type | Direct |
| Nozzle Type | Silicon Carbide |
| Extruder Construction Type | IDEX – Independent Dual Extruders |
| Nozzle Diameter (mm) | 0.6 (Default), 0.8 (Coming soon) |
| Positioning Accuracy (µm) | XY: 1; Z: 0.09765 |
| Print Speed (mm/s) | Up to 500 |
| Acceleration (mm/s2) | 15000 |
| Platform Heating | Yes |
| Maximum Platform Temperature (°C) | 110 |
| Platform Material | Aluminum Alloy, PEI Build Plate with Vacuum Manifold Cover |
| Open Filament System | Yes |
| Supported Materials | Raise3D Industrial PA12 CF, Raise3D Industrial PA12 CF Support, (PPA CF, PET CF, PPA GF, ABS, PETG, ASA Coming soon) |
| Control | 13.3-inch Touchscreen (1920×1080) |
| Assembly Type | Fully-assembled |
| Video Camera | Yes |
| Supported File Types | STL, OBJ, 3MF, OLTP, GCODE |
| Operating System | Windows. macOS, Linux |
| Software | ideaMaker |
| Connectivity | Wi-Fi, LAN, USB port, Live camera |
| Power Input | 3-Phase 380 V, AC 25 A |
| Onboard Flash (Gb) | 2 |
| Manufacturer Country | USA |
| Warranty Period (months) | 12 |
| Certifications | CE, CB, RoHS, FCC, RCM |
| Dimensions Netto (mm) | 1341×991×2341 |
| Dimensions Assembled (mm) | 1341×991×2370 |
| Operating Temperature Range (°C) | 15 – 30 |
| Operating Humidity Range (%) | 30 – 70 RH non-condensing |
| Storage Temperature (°C) | -94 |
Buy a Raise3D 3D printer in Ukraine officially