Description
Features of the Ukrainian 3D printer KLEMA 250 Twin
Ukrainian 3D printer KLEMA 250 Twin is a high-quality Ukrainian 3D printer equipped with two extruders. This is a powerful and productive 3D printing equipment that is suitable for a variety of tasks. Let's look at its benefits in more detail:
Full closed body. Acrylic inserts, which are optionally included with the equipment, allow you to completely insulate the case, ensuring a uniform temperature regime during 3D printing. Thus, this simplifies working with some types of plastic (for example, ABS-plastic);
Metal construction. The body of the 3D printer is strong and stable due to what stability of equipment during the 3D-printing process is provided and probability of emergence of errors when reproducing products is reduced;
3D printing with two threads. The Ukrainian 3D printer KLEMA 250 Twin is equipped by two extruders which allow to make printing by two types or colors of plastic once;
Supports the various types of plastic. KLEMA 250 Twin works with almost all types of 3D plastic: PLA, ABS, PVA, HIPS, Nylon, Primalloy, Laywood, Flexible, TPU, Flame Retardant, PETG, PET, CoPET, POM, PP, Carbon Fiber, Color Change, T-Glase, Bronze, Copper, Aluminium, Brass Filament and others;
Large build volume. The construction area of the KLEMA 250 Twin 3D printer is 200 × 250 × 350 mm, which is enough both for the manufacture of large products and for small-scale production;
Reliable mechanics. This device is equipped with reliable rail guides that ensure the accuracy of 3D printing and the service life of the 3D printer;
Independent calibration of extruders. The KLEMA 250 Twin 3D printer is equipped with two extruders which calibration occurs independently of each other;
High precision of 3D printing. The printing accuracy of this device is 40 microns. You can print products even with a high degree of detalisation.
Remote control via Wi-Fi. Connect to your 3D printer via Wi-Fi from your computer and phone, and control your printing directly from Cura.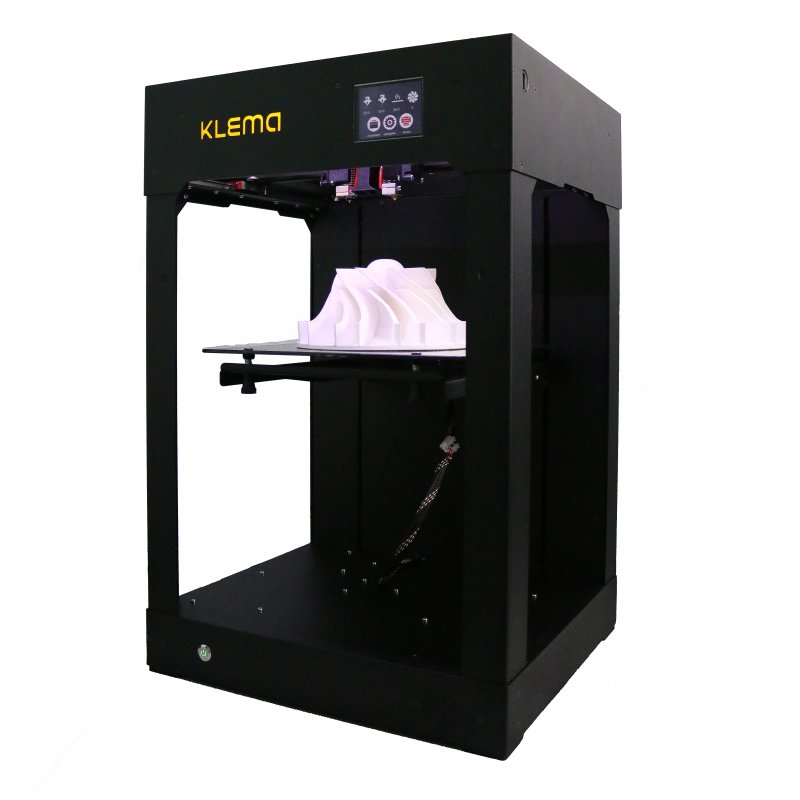 Specifications
| | |
| --- | --- |
| Print Type | FDM |
| Construction Area | 200 х 250 х 350 mm (150 х 250 х 350 for 2 extruder printing) |
| Number of nozzles | 2 |
| Diameter of the nozzle | 0.2, 0.3, 0.4, 0.5, 0.6, 0.8, 1.0 mm |
| Minimum layer height | 0.04 mm |
| Positioning accuracy | 0.00125 mm axis XYZ |
| Print speed | from 10 mm/s to 150 mm/s |
| Carriage speed | to 250 mm/s |
| Temperature of the nozzle | Maximum 270 °C |
| Platform temperature | Maximum 110 °C |
| Type of plastic | PLA, ABS, PLA+, ABS+, ASA, HPLA, Elastan, Plastan, Primalloy, Flex, TPU, TPE, PMMA, PET, POM, PA (Nylon), PA6, Conductive ABS, Flame Retardant, Marble White PLA, Ceramic, Aluminium, Copper, Bronze, Brass and Gold PLA filaments, Wood, Carbon Fiber, PETG, HIPS, PP, PVA |
| Diameter of plastic | 1,75 mm |
| Operating system | Windows, Linux, Mac OS, OSX |
| Language | English, German, Ukrainian, Polish, Chinese, Spanish, Russian |
| Software | Cura, Simplify3D, Slic3r, KISSlicer, Repetier-Host and others |
| Connectivity | USB, Wi-Fi |
| CPU | 8/32 bit |
| Interface | Colored touchscreen |
| File format | STL, OBJ, Gcode, Amf |
| Power supply | 110~220 В, 500 Вт |
| The weight | 25 kg |
| Dimensions | 420 х 500 х 670 mm |
| Dimensions Brutto | 450 х 450 х 690 mm |
| Manufactured | Ukraine |
| Warranty period | 1 year |
Included accessoires
Power cable – 1 pc.
USB Flash – 1 pc.
Filament holder – 2 pcs.
Plastic PLA, 1kg – 1 pc.
Teflon tube 2×3 10 cm – 2 pcs.
Set of legs – 1 pc.
Ukrainian 3D printer KLEMA 250 Twin
Ukraine is just beginning to conquer the 3D printing market with equipment of various configurations. And the Ukrainian 3D printer KLEMA 250 Twin represents one of qualitative and reliable devices for 3D printing which provide high accuracy of reproduction of products. This 3D printer will please users with quality of assembly, an opportunity to print two materials at the same time and existence of the closed case.
With its help it is possible to reproduce products with high detail in high quality. The KLEMA 250 Twin 3D printer differs with functionality and stability. It helps your ideas will be implemented in the best way! E-mail us to order or call by phones listed in the "Our Contacts" section, or make an order through the site.