Description
3D printer Raise3D E2 – buy in Kyiv
Introducing the Raise3D E2 3D printer – a compact and productive dual-extruder FFF printer for professional 3D printing in education, prototyping and manufacturing.
It has excellent printing parameters:
High accuracy and speed of printing.
A large build space of 330×240×240 mm, closed on all sides by the printer body.
Supports printing with a system of two independent IDEX extruders, expanding the capabilities of the device and allowing you to get the fastest result.
The minimum layer thickness is 20 micrometers.
IDEX is a system of two extruders that can move and print independently.
Easy Swap print heads – easy replacement and maintenance.
Automatic bed calibration greatly simplifies work with the printer.
Easy printing and easy removal of prints with a flexible work surface with BuildTak coating.
A wide selection of materials for printing, including flexible, fire-resistant and sensitive to temperature changes.
HEPA air filter, filament presence and door opening sensors, power loss protection.
Large touch display, remote control and monitoring.
Works with ideaMaker slicer, ideaMaker Library and RaiseCloud cloud service.
In addition, the Raise3D E2 has a closed body, a heated platform and a nozzle that can heat up to 300 °C. Such parameters allow printing with almost any materials, including flexible ones. It has an automatic calibration mechanism.
E2 printers are well designed and engineered to be user friendly. This provides a better 3D printing experience for every application and user.
Accurate, affordable and reliable
The Raise3D E2 has a system of two extruders called IDEX (Independent Dual Extruders) that move and print independently of each other. Moving along the same axis during printing, two extruders are able to perform independent tasks in Mirror Mode – simultaneous printing of symmetrical models and Duplication Mode – synchronous printing of identical models. All this eliminates the need to create a separate mirror design file, and doubles the productivity of the printer.
Print heads Easy Swap
The Raise3D E2 3D printer has an extremely convenient Easy Swap Print Heads function – print heads that can be easily removed. They provide ease and speed of changing the print head for another one, changing the nozzle for another type or size, and other maintenance.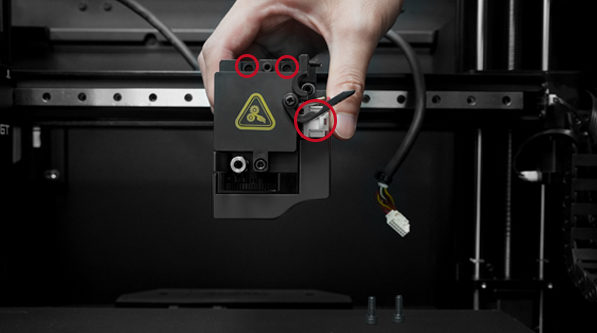 Automatic bed leveling
Considering the fact that a flat working platform is an important factor in the quality of the final print result, its automatic alignment greatly simplifies work with the printer. The intelligent Auto Bed Leveling system measures the distance between the table surface and the nozzle using a sensor at various places on the work surface and adjusts the nozzle to maintain the correct distance between the platform and the nozzles during printing. This means that the extruder can adapt to minor changes in the surface contour, which leads to improved adhesion of the first layers and better quality of the finished models.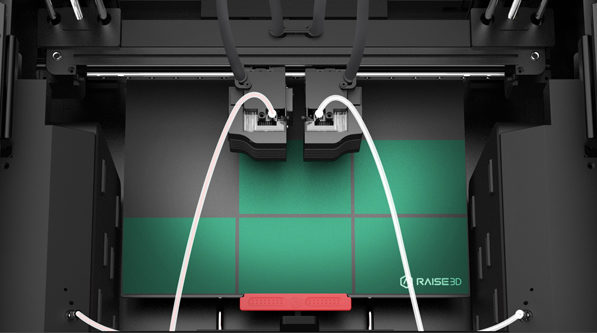 Flexible building plate Raise3D E2 3D printer
The printer has a flexible removable cover of the BuildTak FlexPlate working platform, which makes removing finished prints from the working surface easy, fast and without damaging the finished models.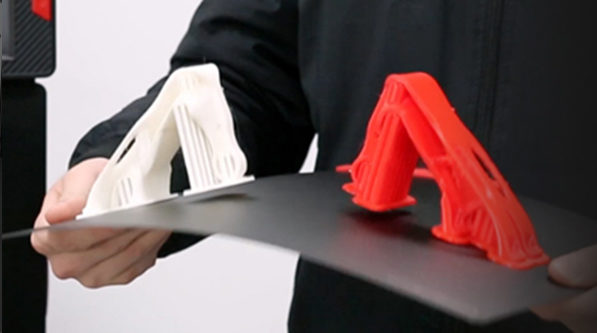 Remote monitoring with a videocamera
The Raise3D E2 3D printer has a built-in video camera so you can watch the 3D printing process inside the working chamber. This video camera works by connecting to RaiseCloud, allowing users to monitor each print job remotely.
Compatible with various filaments, printing up to 300 °C
Features of the Raise3D E2, such as a closed working chamber and a maximum nozzle temperature of up to 300 °C, allow it to work with a variety of printing materials. PLA, ABS, HIPS, PC, TPU, TPE, NYLON, PETG, ASA, PP, PVA, reinforced fiberglass, reinforced with carbon fiber, filled with metal particles, filled with wood microchips.
Since Raise3D E2 is compatible with different types of materials, you can use several different types of filaments for the same print job. Thus, printing complex projects on this 3D printer is economically and practically justified.
Useful functions
Power loss recovery. A power loss or the end of the filament during the printing process will not result in the loss of the print job. The printer notifies you of such occurrences and saves the print job to continue printing after power is restored.
Door opening sensor. Automatic detection of an open door, and immediate suspension of printing.
Full metal frame. Creates a reliable stable environment for smooth movement and precise positioning for high-quality printing. The metal frame for creates a special movement system that allows the machine to slide smoothly while printing.
HEPA air filtration – removes toxic particles released during the 3D printing process. The HEPA E2 air filter operates quietly, designed for quiet background operation in the office, classroom, auditorium or workshop.
The 7-inch touch screen allows you to effectively control the 3D printing process. A built-in camera and connection to RaiseCloud allow you to track every print job. Integrated settings control, on-screen help, visual model selection.
3D printer ecosystem Raise3D E2
ideaMaker

Raise3D's free 3D slicing software ideaMaker, compatible with Raise3D and third-party printers.


RaiseCloud

RaiseCloud is a cloud-based 3D printing management platform capable of remotely monitoring the printing process and organizing print jobs for more efficient 3D printing.


ideaMaker Library

ideaMaker Library provides users with slicing profiles for various filaments, including Raise3D filaments and certified OFP filaments, simplifying parameter settings.
Specifications
| | |
| --- | --- |
| Printing Technology | FFF |
| Layer Height (micron) | 20 – 250 |
| Build Field (mm) | 330*240*240 |
| Build Field For Dual Printing (mm) | 295*240*240 |
| Ø Of Plastic (mm) | 1,75 |
| Maximum Nozzle Temperature (°C) | 300 |
| Number Of Extruders | 2 |
| Chamber Type | Closed |
| Filament Chamber Type | Closed |
| Heating The Chamber | No |
| Plastic Drying | No |
| Autocalibration | Yes |
| Feeder Type | Direct |
| Nozzle Type | Raise3D Pro2 |
| Extruder Construction Type | IDEX – Independent Dual Extruders |
| Leveling System | Mesh-leveling with Flatness Detection |
| Nozzle Diameter (mm) | 0.4 (0.2, 0.6, 0.8, 1.0 available) |
| Positioning Accuracy (µm) | XYZ: 0,78125 |
| Print Speed (mm/s) | 30 – 150 |
| Maximum Platform Temperature (°C) | 110 |
| Platform Material | Steel plate, magnetic, flexible cover BuildTak |
| Open Filament System | Yes |
| Supported Materials | PLA, ABS, HIPS, PC, TPU, TPE, NYLON, PETG, ASA, PP, PVA, Glass Fiber, Carbon Fiber, Metal Filled, Wood Filled |
| Running Noise, dB | < 50 |
| Air Filter | HEPA filter with activated charcoal |
| Control | 7″ Touch Screen |
| Video Camera | Yes |
| Features | Filament Run-out Sensor, Door Sensor, Power Loss Fail Safe |
| Supported File Types | STL, OBJ, 3MF, OLTP, GCODE |
| Software | ideaMaker |
| Connectivity | Wi-Fi, LAN, USB, Live camera |
| Power Input | Input: 100-240 V AC, 50/60Hz 230 V @ 2A. Output: 24 V DC, 350 W |
| Onboard Flash (Gb) | 16 |
| System Requirements | Windows / macOS / Linux |
| Manufacturer Country | USA |
| Warranty Period (months) | 12 |
| Certifications | CE, CB, RoHS, FCC, RCM |
| Weight Netto (kg) | 35,0 |
| Dimensions Netto (mm) | 600×600×490 |
| Weight Brutto (kg) | 50,0 |
| Dimensions Brutto (mm) | 670×700×600 |
| Operating Temperature Range (°C) | 15 – 30 |
| Operating Humidity Range (%) | 10 – 90 RH non-condensing |
Purpose 3D printer Raise3D E2
The Raise3D E2 3D printer is an ideal choice for schools, educational institutions, design and prototyping workshops, small-scale and customized production, etc.
Use the Raise3D E2 for professional printing of both large volumes and small and detailed projects. It offers professional users and designers the performance and security they need to produce high-quality printed products.
Buy a powerful dual-extruder 3D printer in Ukraine