Description
3D printer Raise3D E2CF
The new Raise3D E2CF 3D printer is a state-of-the-art 3D printer for manufacturing applications that performs professional carbon fiber printing.
Raise3D E2CF has unlimited possibilities for functional manufacturing and prototyping with its advanced features. Two independently operating IDEX extruders – large 330×240×240 mm work area and new durable silicon carbide nozzles – allow you to print large complex projects or several small ones simultaneously with excellent detailing.
---
E2CF Filament Unlock Upgrade
On October 13, 2023, Raise3D introduces the E2CF Filament Unlock Upgrade, which includes RaiseTouch and IdeaMaker firmware upgrades, expanding E2CF's access to engineered filament printing so you can print with 7 new plastic filaments:
Industrial PET GF 1.75 mm
Raise3D Industrial PET Support 1.75 mm
Raise3D Premium PLA 1.75 mm
Raise3D Premium ABS 1.75 mm
Raise3D Premium PETG 1.75 mm
Raise3D Premium ASA 1.75 mm
Raise3D Premium PC 1.75 mm
Third-party materials will also be supported under the Open Filament program.
Current E2CF users can take advantage of this expanded access by updating to the latest version of ideaMaker (v4.3.3) and E2CF firmware (RaiseTouch 1.6.12.614) below.
ideaMaker 4.3.3 Improvements
Added 7 new filaments and 18 templates for the Raise3D E2CF:
The E2CF is free of filament restrictions
RaiseTouch new features
This version supports printing with no limit on the types of filaments that can be used.
---
Raise3D E2CF key features
Durable nozzles with abrasion resistance.
Optimized for easy 3D printing of carbon fiber reinforced materials.
The extrusion system with double direct drive ensures reliable and uniform filament feeding.
Pair of independent IDEX extruders – 3D print two parts simultaneously in mirror or duplicate mode.
Special Raise3D Industrielles PA12 CF filament.
Drying chamber for filament and HEPA Filter.
Special slicer profile in IdeaMaker.
Easy maintenance thanks to interchangeable printheads.
Automatic bed alignment, built-in camera, power failure protection and automatic filament detection.
Improved alignment accuracy and rigid metal body frame.
Simple Carbon Fiber 3D Printing Raise3D E2CF 3D Printer
The Raise3D E2CF 3D printer is a desktop 3D printer with two independent IDEX extruders optimized for 3D printing with carbon fiber reinforced filaments. It is great for producing functional engineering parts, prototyping, etc.
Filament that is reinforced with carbon fiber has low density, high strength, resistance to corrosion, static electricity and high temperature. Such materials have the potential for a wide range of applications in industries that require a significant strength-to-weight ratio in their solutions, such as aerospace and automotive manufacturing. The E2CF printer is sturdy, comfortable and stable during operation, providing accurate prints.
On the E2CF you can easily print: functional prototypes, aerospace, automotive, medical, sports equipment, civil engineering, electronics, tools and fixtures in the machine shop, prosthetics and customized bicycle frames.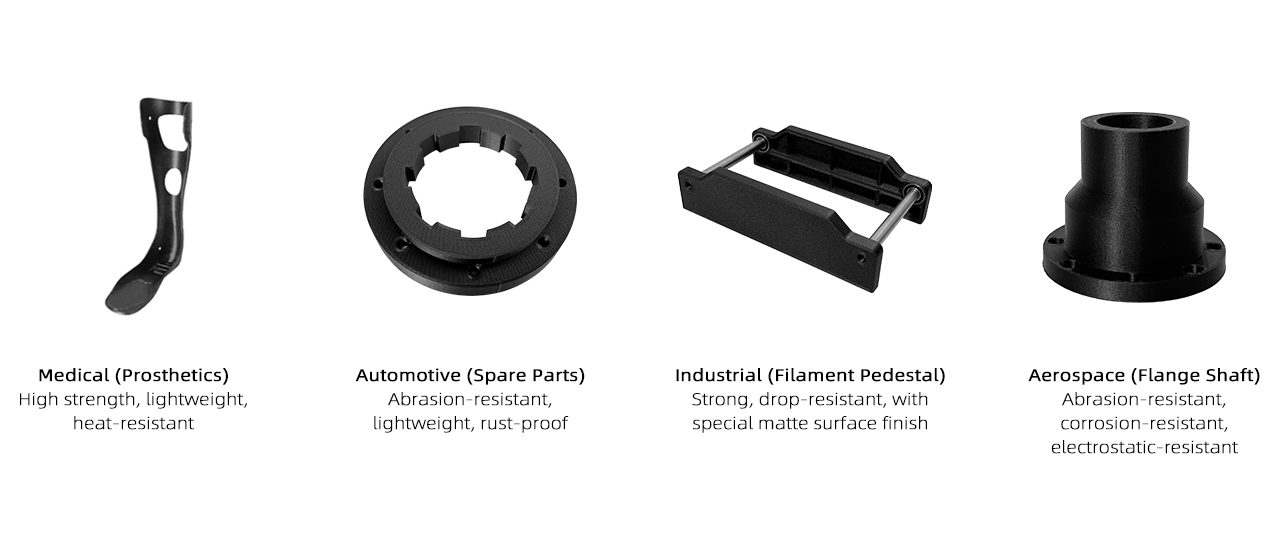 Raise3D E2CF high strength 3D printer nozzles
The new silicon carbide nozzles have excellent wear resistance and heat conductivity, which effectively reduces abrasion and makes the nozzle more durable.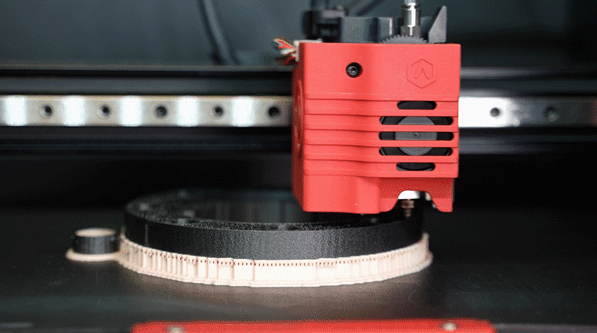 Extrusion system with double direct drive
Gears made of high-stiffness steel, heat-treated for better wear resistance.
With the special gear tooth profile, the filament is held firmly in place and ensures that it cannot slip during extrusion. A reinforced heavy-duty system ensures print stability.
Independent double extruder system IDEX
The independent dual extruders in the E2CF can operate independently of each other along the same axis during printing, performing independent jobs or being responsible for printing with different materials. Therefore, it is possible to execute complex engineering models, printing on a support material, printing with one extruder while the other remains sideways stationary, mirror printing, duplication mode, etc. This all makes this printer very productive with a wide range of professional printing capabilities.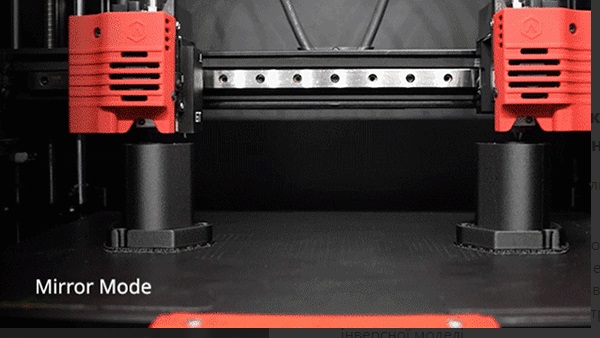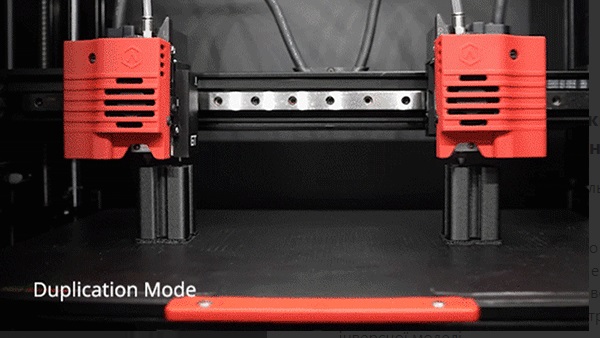 Easy replacement of E2CF printheads
The Raise3D E2CF 3D printer features Easy Swap Print Heads, a system of easily replaceable print heads that greatly simplifies printer maintenance and speeds up nozzle replacement. Any spare Easy Swap Print Heads can be easily prepared with hardened nozzles and different nozzle sizes such as 0.4, 0.6 and 0.8 nozzles to replace them in a few steps and get back to printing.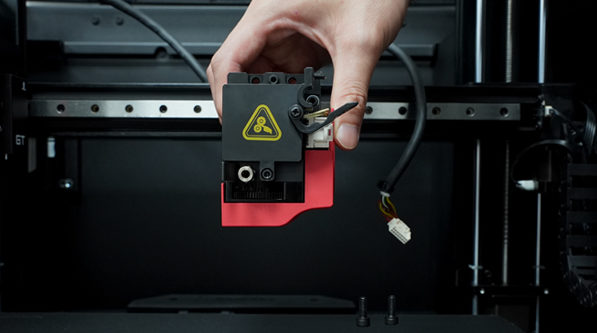 Raise3D E2CF Professional 3D Printer
| | |
| --- | --- |
| | Professional 3D printers such as the E2CF are quality, user-friendly printers designed with features that provide better printing results. For example, the E2CF has a flexible build plate that allows for easy removal of printed parts, ensuring that the part is removed without damage. It is features like the flexible build plate that help make the E2CF a convenient and industrial beginner 3D printer for those who want to gain experience in professional 3D printing. |
| Bed leveling is the process of verifying that the print bed is as equal as possible. The E2CF has an auto-leveling feature that will maintain the distance between the nozzles and the bed to create a uniform area and ensure that the first layers of print adhere perfectly and prevent deformation of the printed part. | |
| | E2CF uses the remote monitoring camera – entire 3D printing process of each task by connecting to RaiseCloud. |
Useful Features of the Raise3D E2CF 3D Printer
Safety features.
Sensors for door opening, filament presence, and print recovery after a sudden power failure are useful features that improve print quality and prevent loss.
Improved calibration accuracy. This auxiliary process is designed specifically for reinforced fiber materials to improve nozzle height calibration accuracy, maintain adhesion and first layer print quality.
Stable metal frame – for smooth movement and precise positioning for high quality printing.
Upgraded HEPA air filtration, which is quiet and removes toxic particles (including nanoparticles) emitted during the 3D printing process.
The 7-inch touch screen allows you to monitor the printing process and enjoys user convenience.
3D printing with carbon fiber reinforced plastic
E2CF is perfectly matched with Raise3D's Industrial PA12 CF plastic and its backing material. Plans are also underway to make carbon fiber reinforced filaments available for E2CF: PPA CF, PET CF, PPS CF from Raise3D (with a print temperature of 280 – 300 ºC). Third-party filaments certified by Raise3D Open Filament Program, such as BASF and LEHVOSS, will be available for E2CF at a later date.
*E2CF only supports authorized filaments and print profiles. For a complete list, view the datasheet or contact Raise3D.
Raise3D Industrial PA12 CF filament is reinforced with short carbon fibers and exhibits excellent stiffness and strength, heat resistance, low warp and low water absorption. This material has an excellent strength-to-weight ratio and has improved mechanical properties and dimensional stability after annealing, making it suitable for metal replacement in the manufacture of some lightweight components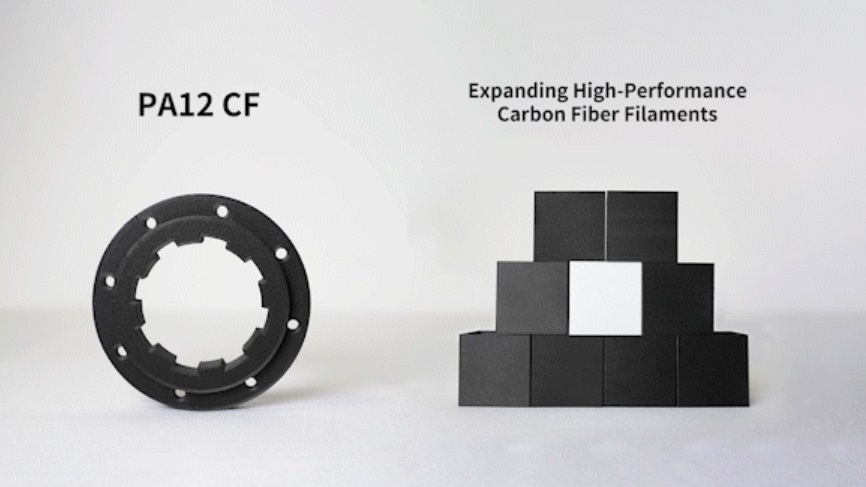 Supporting thread Industrial PA12 CF
Raise3D Industrial PA12 CF Support Filament is a removable support material specifically designed to be paired with carbon fiber reinforced composite filaments. During the 3D printing process, it creates a stable support structure, creating proper adhesion to the printed surfaces and preventing deformation. This significantly improves the surface quality of the protrusions and recesses of carbon fiber printed elements. E2CF support material demonstrates broad compatibility with many high-performance carbon fiber reinforced composite filaments and is more cost-effective than water-soluble support material.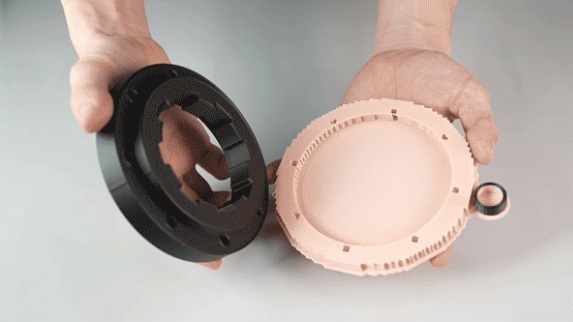 Raise3D E2CF Filament Dry Box 3D Printer
Recessed hanging trays are used to accommodate the yarn and allow for smoother retrieval of the material. When closed, they can effectively protect the material from dust and moisture for up to 30 days.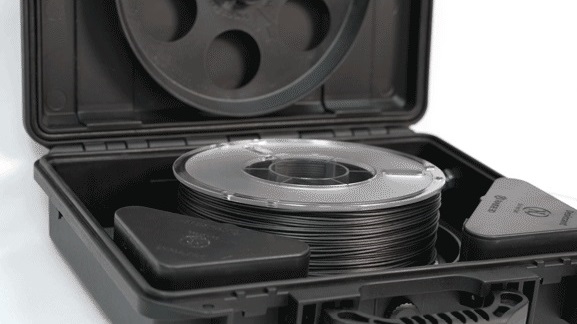 IdeaMaker slicing profiles
Like most Raise3D's, E2CF performs batch production and intelligent control with ideaMaker as the core software solution. E2CF has tested and proven cutting profiles in ideaMaker. The ease and quality of 3D printing is given by pre-configured printing parameters.
Raise3D E2CF 3D printer ecosystem
ideaMaker

Raise3D's free 3D slicing software ideaMaker, compatible with Raise3D and third-party printers.

RaiseCloud

RaiseCloud is a cloud-based 3D printing management platform. It can remotely control the printing process and organize printing tasks for more efficient 3D printing.

ideaMaker Library

ideaMaker Library provides with slicing profiles for different filaments, including Raise3D and OFP certified filaments. Making it easy to customize print settings for different filaments.
Specifications:
| | |
| --- | --- |
| Printing Technology | FFF |
| Layer Height (micron) | 100 – 250 |
| Build Field (mm) | 330*240*240 |
| Build Field For Dual Printing (mm) | 295*240*240 |
| Ø Of Plastic (mm) | 1,75 |
| Maximum Nozzle Temperature (°C) | 300 |
| Number Of Extruders | 2 |
| Chamber Type | Closed |
| Filament Chamber Type | Closed |
| Heating The Chamber | No |
| Plastic Drying | No |
| Autocalibration | Yes |
| Feeder Type | Direct |
| Nozzle Type | Raise3D E2CF |
| Extruder Construction Type | IDEX – Independent Dual Extruders |
| Leveling System | Mesh-leveling with Flatness Detection |
| Nozzle Diameter (mm) | 0.4 (0.6, 0.8 available) |
| Positioning Accuracy (µm) | XYZ: 0,78125 |
| Print Speed (mm/s) | 30 – 150 |
| Platform Heating | Yes |
| Maximum Platform Temperature (°C) | 110 |
| Platform Material | Steel plate, magnetic, flexible cover BuildTak |
| Open Filament System | Yes |
| Supported Materials | PA12 CF, PA12 CF Support, PPA CF, PPA GF, PPA Support, PET CF, PPS CF |
| Running Noise, dB | < 50 |
| Air Filter | HEPA filter with activated charcoal |
| Control | 7″ Touch Screen |
| Video Camera | Yes |
| Features | Filament Run-out Sensor, Door Sensor, Power Loss Fail Safe |
| Supported File Types | STL, OBJ, 3MF, OLTP, GCODE |
| Software | ideaMaker |
| Connectivity | Wi-Fi, LAN, USB, Live camera |
| Power Input | Input: 100-240 V AC, 50/60Hz 230 V @ 2A. Output: 24 V DC, 350 W |
| Onboard Flash (Gb) | 16 |
| System Requirements | Windows / macOS / Linux |
| Certifications | CE, CB, RoHS, FCC, RCM |
| Weight Netto (kg) | 32,4 |
| Dimensions Netto (mm) | 607×596×465 |
| Weight Brutto (kg) | 45,4 |
| Dimensions Brutto (mm) | 750×750×700 |
| Operating Temperature Range (°C) | 15 – 30 |
| Operating Humidity Range (%) | 10 – 90 RH non-condensing |
| Manufacturer Country | USA |
| Warranty Period (months) | 12 |
Buy a Raise3D E2CF 3D printer for printing with composite materials
3D printing with reinforced materials in Lvov, Rivne, Khmelnitsky, Kyiv, Odessa