Description
Raise3D E2 Educational Dual Extruder 3D Printer
The Raise3D E2 Educational 3D Printer is a special price offer from Raise3D that applies only to printers used for educational purposes. This includes schools, educational associations, colleges, universities and other educational institutions.
The Raise3D E2 3D printer with two extruders and a large 330×240×240 mm build field is a productive, versatile, accurate and reliable device at a more budget-friendly price. It is also easy to use and features the IDEX independent paired extruder system and flexible working platform, which has excellent surface adhesion and easy removal of printed products. Easy to print, easy to remove – always great printing results!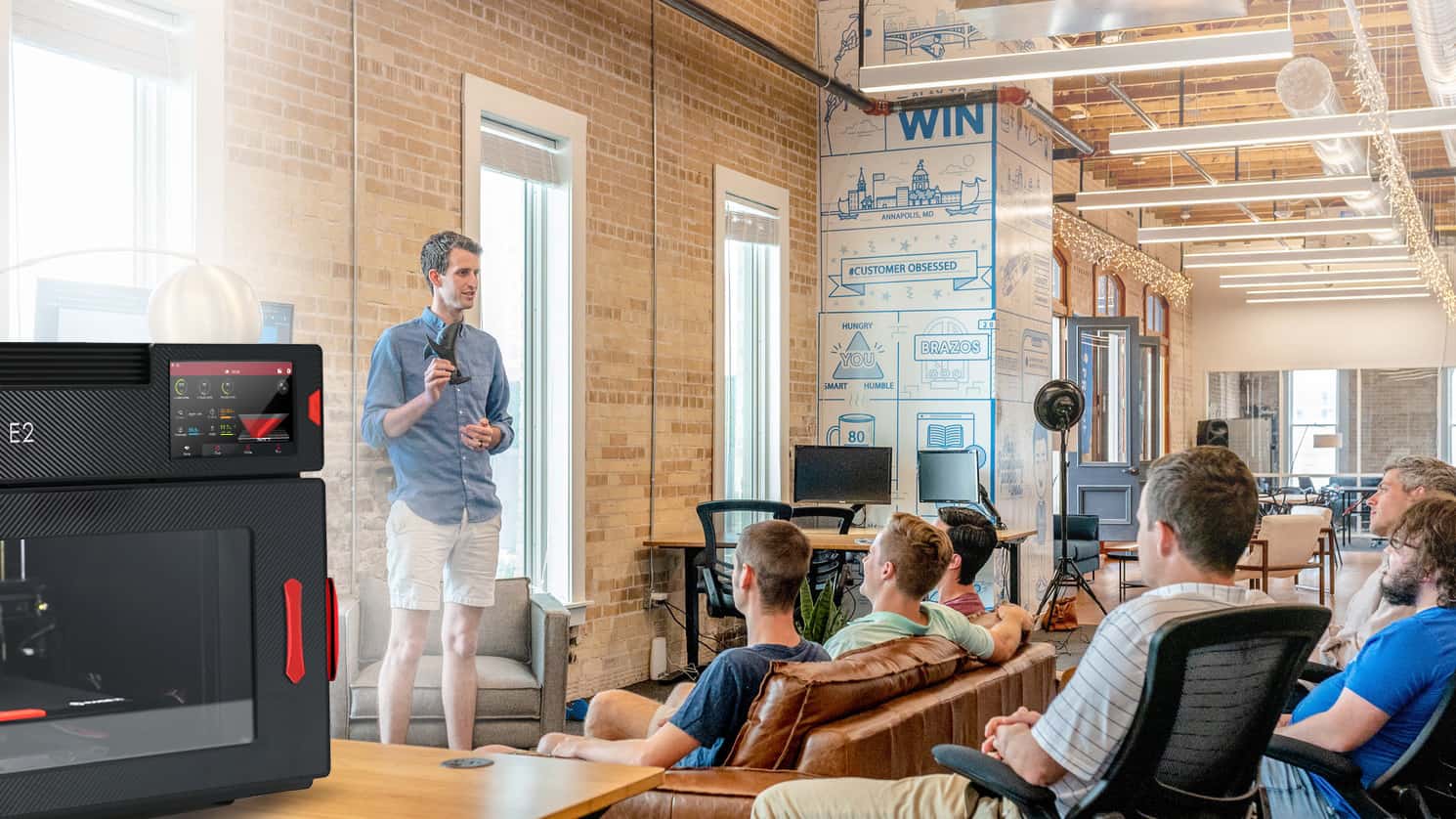 A reliable 3D printer for educational institutions
The Raise3D E2 is a high-end 3D printer designed with advanced technology that makes it extremely user-friendly. It provides a 3D printing experience of a level that is perfect for immersive 3D learning. The printer makes it convenient and easy to introduce 3D printing to beginners in schools, clubs, vocational schools, higher education institutions, etc.
Large build space 330×240×240 mm, covered on all sides.
Minimum layer thickness of 20 µm.
High printing temperature up to 300 °C.
System of two independent IDEX extruders.
Multiple printing modes: one extruder or two extruders simultaneously – Mirror Mode and Duplication Mode.
Easy Swap printheads – easy replacement and maintenance.
Automatic Bed Alignment.
Easy printing and easy removal of prints from the flexible BuildTak coated work surface.
Wide selection of print materials including flexible, flame retardant and temperature sensitive.
HEPA air filter – removes plastic nanoparticles from the air. Safe and quiet classroom environment.
Large 7″ touchscreen display, remote control and monitoring with built-in camera and RaiseCloud cloud platform.
Door open sensor, filament sensor and print save and restore function in case of power loss.
Works in the Raise3D ecosystem: ideaMaker, ideaMaker Library and RaiseCloud.
Raise3D E2 for school: specifications
| | |
| --- | --- |
| Type of 3D printing | FDM |
| Print area for 1 extruder | 305 × 305 × 605 mm |
| Print area for 2 extruders | 280 × 305 × 605 mm |
| Print head | Double head with electronic lifting system |
| Plastic diameter | 1.75 mm |
| XY step size | 0.78125 microns |
| Z step size | 0.078125 microns |
| The speed of movement of the print head | 30 – 150 mm/s |
| Platform | Aluminum platform with heating and magnetic retention |
| Maximum platform temperature | 110°C |
| Material of the heating table | Silicon |
| Screen resolution | 1024*600 |
| Compatible materials | PLA, ABS, HIPS, PC, TPU, NYLON, PETG, ASA, PP, Carbon Fiber, etc. |
| Nozzle diameter | 0.2, 0.4, 0.6, 0.8, 1.0 mm |
| Maximum nozzle temperature | 300 °C |
| Connection | Wi-Fi, LAN, USB port, Live camera |
| User interface | 7-inch touch screen |
| Noise level during printing | <50 dB(A) |
| Ambient operating temperature | 15-30 °C, relative humidity 10-90% non-condensing |
| Storage temperature | from -25 °C to +55 °C and relative humidity 10-90% |
| Input voltage | 100-240 V AC, 50/60 Hz 230 V |
| Output voltage | 24 V DC, 600 W |
| Slicer software | ideaMaker |
| Supported file types | .STL, .OBJ, .3MF |
| OS | WINDOWS/ IOS/ LINUX |
| The type of file to print | GCODE |
| Dimensions | 620 × 590 × 1105 mm |
| Warranty | 6 months |
Buy an educational 3D printer Raise3D E2 in Ukraine