Description
Raise3D Forge1 metal 3D printing
Introducing Raise3D Forge1 – metal 3D printing printer that opens up an alternative way to quickly produce and prototype small batches of metal parts.
A large print area of 300*300*300 mm gives you the freedom to design.
Forge1 is the first Raise3D printer to print with metal 3D plastic. The metal-based printing materials were developed in close collaboration with Forward AM (the brand name of BASF's 3D printing solutions). The result of the research was a seamless interaction between the Forge1 and the metal filaments Ultrafuse® 316L and Ultrafuse® 17-4.
Raise3D Forge1 features
Advanced features of the print platform.
Automatic bed leveling.
Glass build plate.
The specialized ideaMaker slicer for metal provides templates for all processes.
D200-E and S200-C for binder removal and sintering processes.
Forge1 prints are MIM compatible.
The dual head is capable of printing with metal filaments.
Large print area of 300*300*300 mm.
Time- and environmentally efficient technology
Improved packaging density in printing.
Raise3D MetalFuse – Metal 3D Printing System
The set of solutions offered by Raise3D includes:
A special version of the ideaMaker slicer.
High-quality BASF materials.
Forge1 3D printer, for indirect 3D printing of high-quality and high-strength "green" parts.
Furnace for catalytic removal of binding additives D200-E.
Vacuum furnace S200-C.
Thus, MetalFuse provides a complete production cycle of metal parts compatible with MIM equipment. Its advantages include low overhead costs and the possibility of serial production and scaling of a 3D printing farm. MetalFuse saves more energy and is more environmentally friendly compared to processes such as CNC and SLM (selective laser melting).
Forge1 printers are cost-effective for a print farm to produce metal parts on demand.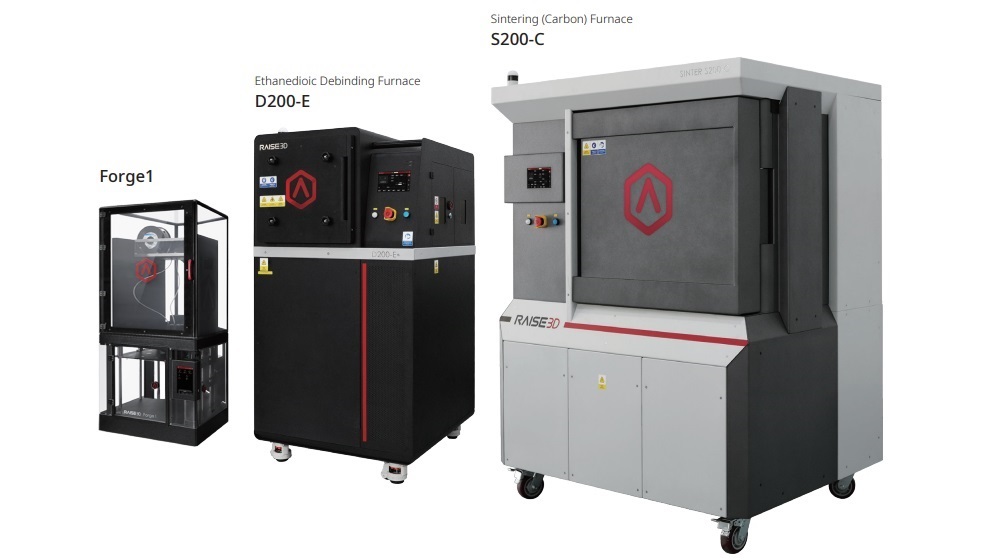 The benefits of "green" parts printed by Forge1
Stable production of complex parts.
Achieving a smooth surface of the finished part.
The possibility of printing with two materials.
Ensuring high assembly accuracy.
Reliably copes with batch printing.
Strength characteristics allow delivery for outsourced deburring and sintering.
Raw parts produced by the Raise3D Forge1 3D printer must go through the processes of debonding and sintering before they are ready for use.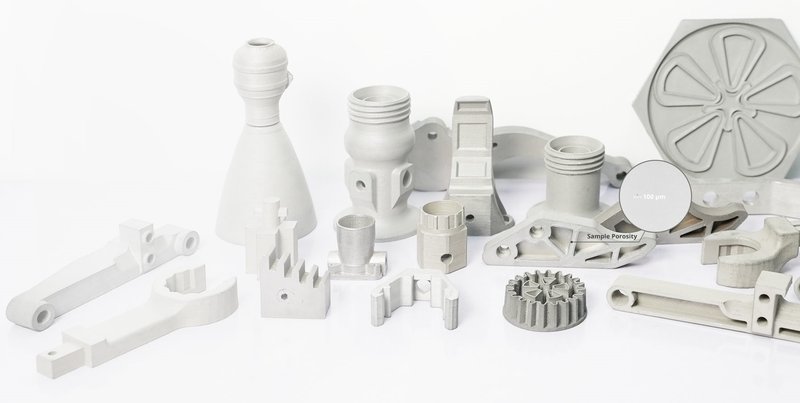 Benefits of Raise3D Forge1
The dual extrusion system with electronic lift and precision kinematics ensures high print speed and accuracy. In addition, the device has several intelligent features that optimize workflow, such as automatic bed leveling, a filament end-of-life sensor, an activated carbon HEPA filter, and more. The Raise3D Forge1 prints with high-quality metal filaments from BASF, which contribute to a simple, efficient and safe printing process, as well as the highest quality products. All of these features make the Forge1 a reliable tool for low-volume production of final parts with outstanding mechanical properties.
MetalFuse system
It is recommended to use the Forge1 3D printer with special equipment from the MetalFuse series. In this way, the polymer will be removed from the model during the catalytic removal of the binder, resulting in a pure metal with residual binder. During the sintering process, the binder will be further removed due to the temperature below the melting point of the metal. In this way, the product reaches its final hardness and strength properties.
Print quality
The Raise3D Forge1 3D printer prints with a layer thickness of 0.25 to 0.1 mm, which allows for mass production of parts with smooth outer surfaces. The new method of catalytic binder removal not only reduces processing time by 60%, but also allows to increase the density of the produced parts to 97% of the level of wrought iron. The machine is equipped with a silicone heating platform with an automatic alignment system that guarantees accurate calibration. The Forge1 comes with 0.4 (default), 0.6 and 0.8 mm nozzles for all your printing needs.
Raise3D Forge1 specifications
| | |
| --- | --- |
| Printing Technology | FFF |
| Layer Height (micron) | 100 – 250 |
| Build Field (mm) | 300*300*300 |
| Build Field For Dual Printing (mm) | 255*300*300 |
| Ø Of Plastic (mm) | 1,75 |
| Maximum Nozzle Temperature (°C) | 300 |
| Number Of Extruders | 2 |
| Chamber Type | Closed |
| Filament Chamber Type | Closed |
| Autocalibration | Yes |
| Feeder Type | Direct |
| Extruder Construction Type | Dual-head with electronic lifting system |
| Nozzle Diameter (mm) | 0.4 (Default), 0.6 / 0.8 (Available) |
| Positioning Accuracy (µm) | XY: 0.78125; Z: 0.078125 |
| Print Speed (mm/s) | 30 – 150 |
| Platform Heating | Yes |
| Maximum Platform Temperature (°C) | 120 |
| Platform Material | Glass Build Plate, Silicone |
| Supported Materials | Ultrafuse® 316L, Ultrafuse® 17-4PH, Ultrafuse® Support Layer |
| Running Noise, dB | < 55 dB (A) |
| Air Filter | HEPA filter with activated charcoal |
| Control | 7-inch Touch Screen (1024×600) |
| Assembly Type | Fully-assembled |
| Video Camera | Yes |
| Features | Filament Run-out Sensor, EVE Smart Assistant, Power Loss Fail Safe |
| Supported File Types | STL, OBJ, 3MF, OLTP, GCODE |
| Operating System | Windows |
| Software | ideaMaker |
| Connectivity | Wi-Fi, LAN, USB port, Live camera |
| Power Input | 100-240 V AC, 50/60 Hz 230 V @ 3.3 A |
| Power Output | 24 V DC, 350 W |
| Onboard Flash (Gb) | 16 |
| Manufacturer Country | USA |
| Warranty Period (months) | 12 |
| Certifications | CE, CB, RoHS, FCC, RCM |
| Weight Netto (kg) | 75,0 |
| Dimensions Assembled (mm) | 620×626×1390 |
| Operating Temperature Range (°C) | 15 – 30 |
| Operating Humidity Range (%) | 10-65% RH non-condensing |
| Storage Temperature (°C) | -25 to +55 |
Buy a Raise3D Forge1 3D printer in Ukraine