Description
Raise3D Pro3 3D printer
The Raise3D Pro3 3D printer is an all-in-one achievement in the world of 3D printing. It is a powerful professional 3D printer with many features to help you print high-quality prototypes and products.
Raise3D Pro3 has a large build volume of 300×300×300 mm and a dual extruder system that allows you to print large parts or do mass production. The all-metal construction gives it extra strength and reliability, and the built-in airflow manager with perfect air circulation results in strong and smooth print surfaces. The built-in EVE smart assistant system reminds users of regularly scheduled interventions and helps them pinpoint and resolve issues. The printer also features easy-to-use software that helps manage the printing process efficiently.
All of this makes Raise3D Pro3 an ideal solution for professional 3D printing with great potential for creating complex and detailed objects.
Raise3D Pro3 – flexible production in your workshop
The Pro3 series consists of the Pro3 printer with a 300×300×300 mm build bed and the Pro3 Plus with a 300×300×605 mm build bed, which meets the requirements of large-scale production and rapid multi-dimensional prototyping.
The Pro3 Series dual extruder 3D printers connect to the Raise3D 3D printing software ecosystem, which includes the ideaMaker 3D slicing software, an open source template called the ideaMaker Library, and RaiseCloud 3D printing cloud software.
Raise3D Pro3 3D printing platform
Has updated print platform features to produce high-quality prints and have a better overall experience.
Automatic platform leveling makes it easy to prepare for 3D printing.
With the flexible build plate, you can remove 3D printed parts without effort and rejects.
Z-axis shaft stiffness increased by 75% for more stable operation.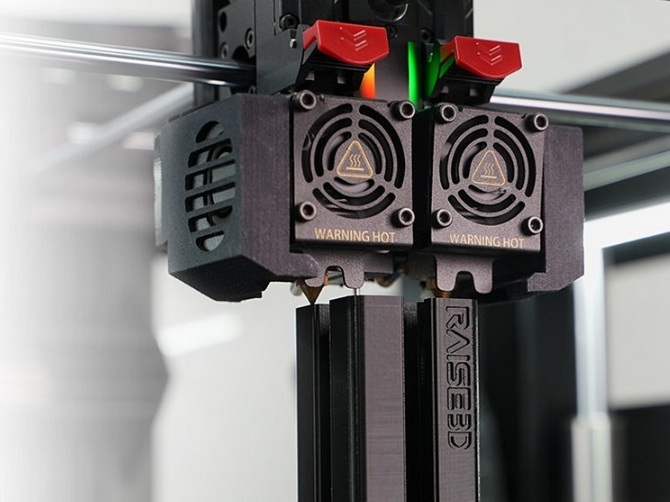 Interchangeable hot end and extruder cover
The Pro3 Series features a modular dual print head extruder with an electronic lift system. This allows the Pro3 Series to print with a variety of filaments, reduce clogging, and provide easy disassembly and component replacement. The Pro3 Series Hot End is easy to remove without tools for replacement and maintenance. Here, the extruder cover can be easily removed for inspection and maintenance.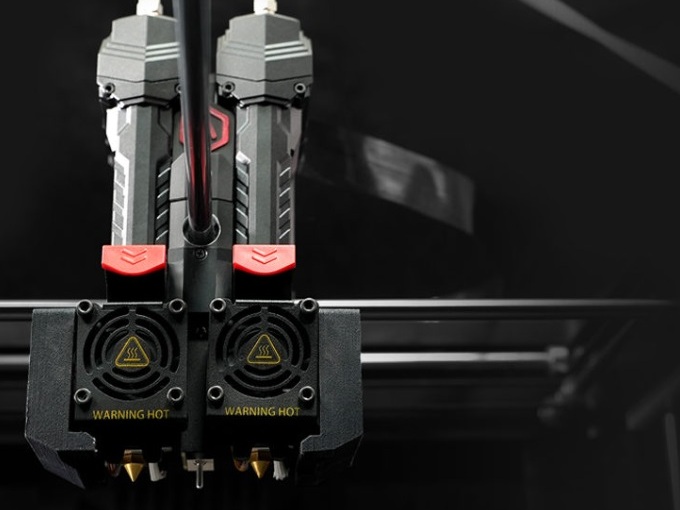 Airflow manager for Raise3D Pro3 3D printer
On the rear panel is the Air Flow Manager, which improves heat dissipation and air circulation to create a stable print chamber environment. The Air Flow Manager can filter and purify the air inside the print chamber. It is equipped with a HEPA air filter.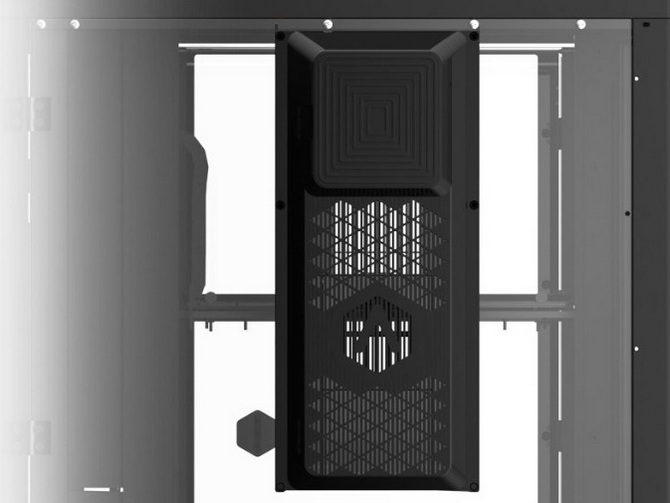 EVE smart assistant
The Pro3 Series has a built-in EVE Smart Assistant system. The EVE assistant can help users find and resolve issues that may affect the final print job. It also has a feature that reminds users of regularly scheduled interventions to ensure that printer maintenance is performed on time. This reduces maintenance time and communication costs for an efficient maintenance process.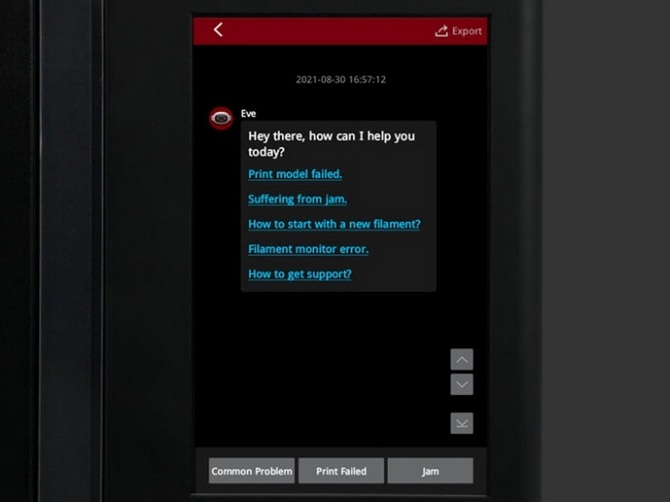 Universal dual-extruder 3D printer Raise3D Pro3
Versatile professional dual extruder 3D printers can print more complex projects, such as making two-color models and models made of different materials for different purposes. They feature one-way nozzle lift technology with fast nozzle switching and can therefore independently and autonomously lift and switch within a second without affecting the material or temperature of the 3D print.
Precise positioning and high repeatability of print results: < 0.005 mm, 5 microns.
Lightning fast speed: switching time < 1 second.
1.5 mm lift distance: compatible with flexible filaments.
Raise3D Pro3 useful features
Lightweight cable with digital temperature measurement

The Pro3 Series has replaced the pull cable with a lightweight cable to reduce the weight of the extruder and keep the center of gravity in the middle during 3D printing for more stable print quality. There is a digital temperature measurement to accurately determine the temperature to prevent jamming.

Automatic bed leveling

Leveling the print bed is the process of confirming that the print platform is as level as possible. The Pro3 Series performs this procedure automatically by maintaining the distance between the print nozzles and the print bed during the printing process. In this way, the nozzles adapt to even the slightest changes in the surface contour, and printing the first layers becomes trouble-free, with perfect adhesion without sticking or deformation.

HD continuous monitoring camera

The built-in HD camera allows you to monitor the entire printing process by connecting to RaiseCloud. Monitor every print job remotely and on the go. Upgraded CMOS sensor delivers better image quality.
Printing security on Raise3D Pro3
The printer has convenient functions for monitoring the availability of power and print media. In the event of such an incident, the printer resumes the printing process from where it stopped. There is also a door opening sensor that stops printing if the door is opened. The built-in HEPA filter filters the air from the smallest particles released during printing. The filter is quiet, so the printer can operate quietly even in offices, classrooms and small workspaces.
Raise3D Pro3 ecosystem
ideaMaker

Raise3D's free ideaMaker 3D slicing software, compatible with Raise3D and third-party printers.

RaiseCloud

RaiseCloud is a cloud-based 3D printing management platform that allows you to remotely control the printing process and organize print jobs for more efficient 3D printing.

ideaMaker Library

The ideaMaker Library provides users with cutting profiles for a variety of filaments. This includes Raise3D and OFP certified filaments, making it easy to customize print settings for different filaments.
Specifications:
| | |
| --- | --- |
| Printing Technology | FFF |
| Layer Height (micron) | 10 – 250 |
| Build Field (mm) | 300*300*300 |
| Build Field For Dual Printing (mm) | 255*300*300 |
| Plastic diameter (mm) | 1,75 |
| Maximum Nozzle Temperature (°C) | 300 |
| Number Of Extruders | 2 |
| Chamber Type | Closed |
| Filament Chamber Type | Closed |
| Heating The Chamber | No |
| Plastic Drying | No |
| Autocalibration | Yes |
| Feeder Type | Direct |
| Nozzle Type | Raise3D Pro2 |
| Extruder Construction Type | Dual-head with electronic lifting system |
| Leveling System | Mesh-leveling with Flatness Detection |
| Nozzle Diameter (mm) | 0.4 (0.2, 0.6, 0.8, 1.0 available) |
| Positioning Accuracy (µm) | XYZ: 0,78125 |
| Print Speed (mm/s) | 30 – 150 |
| Platform Heating | Yes |
| Maximum Platform Temperature (°C) | 120 |
| Platform Material | Steel plate, magnetic, flexible cover BuildTak |
| Open Filament System | Yes |
| Supported Materials | PLA, ABS, HIPS, PC, TPU, TPE, PETG, ASA, PP, PVA, Nylon, Glass Fiber, Carbon Fiber, Metal Fill, Wood Fill |
| Running Noise, dB | < 55 |
| Air Filter | HEPA filter with activated charcoal |
| Control | 7″ Touch Screen |
| Video Camera | Yes |
| Features | Filament Run-out Sensor, Door Sensor, Power Loss Fail Safe, EVE Smart Assistant |
| Supported File Types | STL, OBJ, 3MF, OLTP, GCODE |
| Software | ideaMaker |
| Connectivity | Wi-Fi, LAN, USB, Live camera |
| Power Input | Input: 100-240 V AC, 50/60Hz 230 V @ 3.3A. Output: 24 V DC, 600 W |
| Onboard Flash (Gb) | 16 |
| System Requirements | Windows / macOS / Linux |
| Manufacturer Country | USA |
| Warranty Period (months) | 12 |
| Certifications | CE, CB, RoHS, FCC, RCM |
| Weight Netto (kg) | 49,0 |
| Dimensions Netto (mm) | 620×626×760 |
| Weight Brutto (kg) | 75,0 |
| Dimensions Brutto (mm) | 750×750×1060 |
| Operating Temperature Range (°C) | 15 – 30 |
| Operating Humidity Range (%) | 10 – 90 RH non-condensing |
Buy Raise3D 3D printers in Ukraine
Raise3D Pro3 3D printer price in Kyiv, Kharkiv, Lviv, Chernihiv, Odesa, etc.