Description
3D scanner Creaform MetraSCAN 3D BLACK
Introducing 3D scanner MetraSCAN BLACK by Creaform – the fastest and most accurate 3D scanner and portable coordinate measuring machine (CMM) for on-site measurements, in all conditions and on all surfaces.
The line of optical CMM scanners MetraSCAN 3D is designed specifically for professional metrological control in production. This optical CMM scanner is built to perform highly accurate and reproducible metrology-grade measurements and 3D geometric surface checks.
Benefits of Creaform MetraSCAN 3D BLACK
MetraSCAN 3D is able to work efficiently and quickly in any production environment. Vibrations in the shop, movement of parts, and environmental variability that affect the measurement results of other instruments are not a hindrance to MetraSCAN 3D. Thus, these devices are best suited for applications where there is no compromise on quality or efficiency.
Working in the toughest environments and on a wide variety of surfaces, it improves your quality control and reverse engineering processes. Together with the C-Track dual camera sensor, MetraSCAN BLACK constitutes a system for linking and tracking the position of the 3D scanner relative to the object being scanned. And when combined with HandyPROBE, a portable optical coordinate measuring machine (PCMM), creates a 3D scanning and measurement system that can be used for a wide range of metrology applications.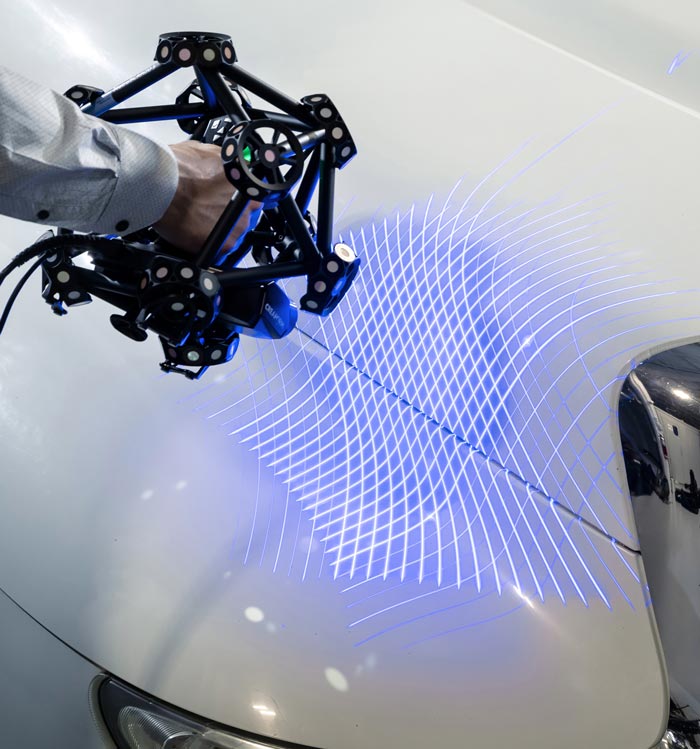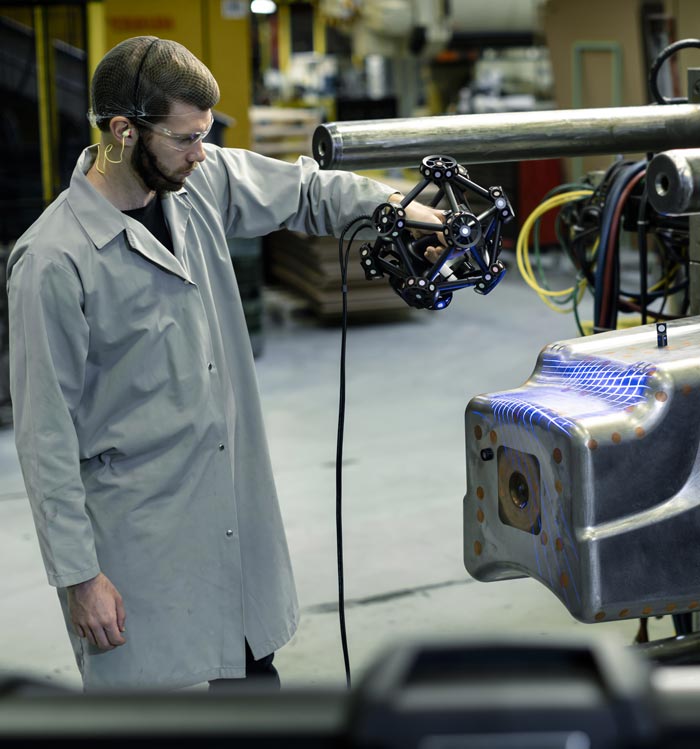 3D measurement performance
To speed up 3D scanning processes, MetraSCAN 3D projects 7 laser crossed lines. High-speed 3D scanning is achieved through fast setup and connection, real-time scanning, and fast ready-to-use files.
The speed of 3D scanning depends not only on the speed of measurements. It is influenced by a set of parameters: scanning area, number of laser lines, convenience and freedom of movement, allowing you to quickly scan the surface from different sides.
High measurement speed – makes 800,000 measurements per second.
Large scan area for all types of parts. The 3D scanner projects 7 laser crossed lines onto the surface, which provides it with excellent measurement performance.
Building a grid in real time. Reduces the time between scanning and getting working files.
Ultra-fast setup – get ready for work very quickly: the scanner is ready to work in just 5 minutes.
Impressive accuracy in all conditions
Because MetraSCAN 3D Black does not have any stringent measurement set-up requirements, it is well suited for "on the shop floor" use. It delivers accurate results regardless of the accuracy of the measurement setup and the experience level of the operator. With the C-Track optical tracker that provides dynamic referencing, the scanner, part, and optical tracker can move during inspection and still provide accurate measurements.
Accuracy – 0.035 mm.
Volumetric accuracy – 0.086 mm/m.
Reliable acceptance testing. The 3D scanner is based on the VDI/VDE 2634 part 3 standard, giving more accurate and traceable measurements. Verified by an ISO 17025 accredited laboratory.
Accuracy in the production environment with dynamic reference – measurement accuracy is insensitive to environmental instability. A high resolution. Measures all types of complex and detailed parts.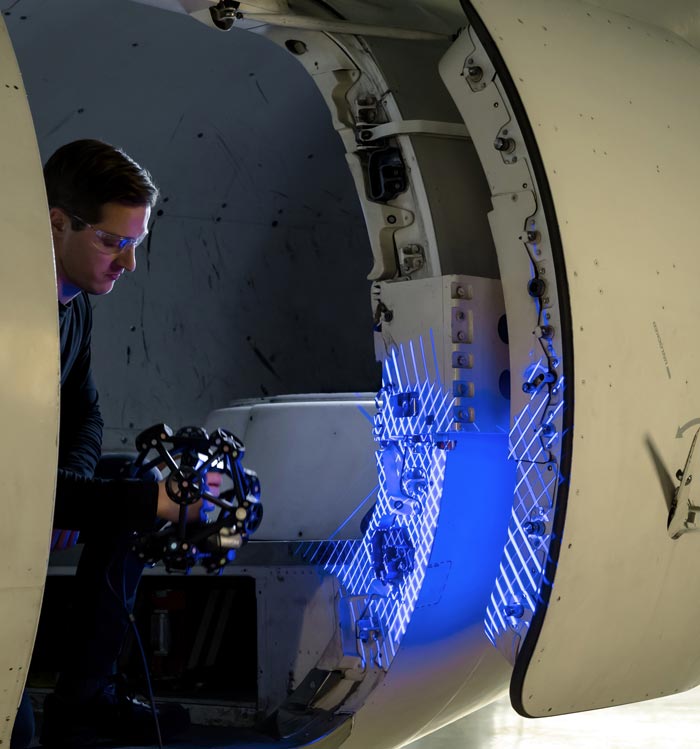 Unsurpassed versatility
The versatile MetraSCAN 3D BLACK can be used to scan parts of various sizes and surfaces in real time. It scans black or shiny parts of any shape, geometry and surface complexity without difficulty and without loss of accuracy.
Blue laser technology. Thanks to the use of a blue laser, it is ideal for shiny and reflective surfaces.
Large and easily expandable measurement volume. When scanning large surfaces with MetraSCAN 3D BLACK from different positions, you can be sure of high quality results.
The optional HandyPROBE is a combination of 3D scanning and probing. Tags are not required.
3D scanner MetraSCAN BLACK
Innovative MetraSCAN 3D technology brings unparalleled precision, simplicity, portability, speed and efficiency to 3D inspection in your production environment. 3D measurement of various complex parts, dimensions, materials and finishes has never been easier.
High quality optics. Optimal scan quality.
Additional single laser line. Easy capture of hard-to-reach places (option available in MetraSCAN 3D BLACK | Elite).
Blue laser technology. Scan any surface with high resolution.
Color indicator of the distance to the object. Maximum scanning performance.
Multifunction buttons. Quick access to frequently used software features.
visibility indicators. Visibility of scanner, probe and tracker.
Continuous environmental monitoring. Tracking calibration inaccuracies.
HandyPROBE module. Additional sensing options.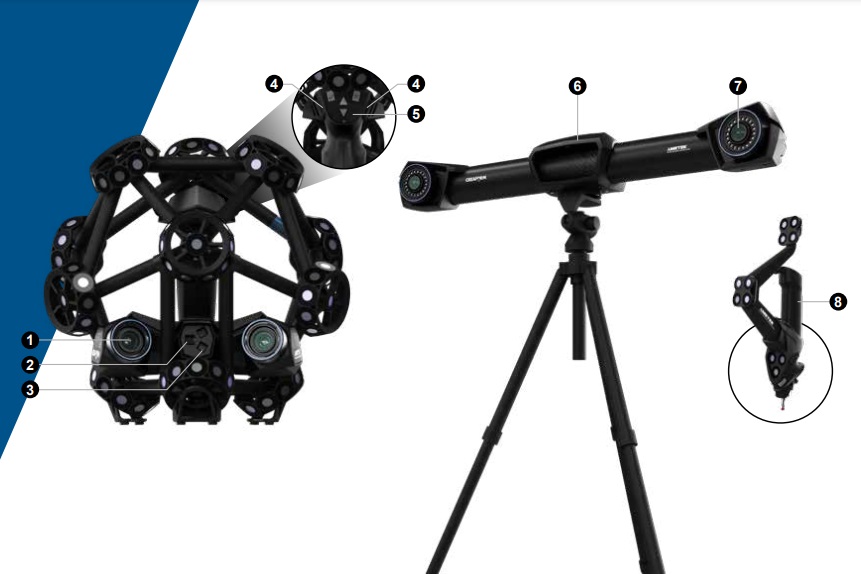 Convenient software platform VXelements
MetraSCAN 3D BLACK comes with VXelements™, a fully integrated and user-friendly 3D scanning software platform. A range of advanced VXelements modules allows you to use all the dimensional information obtained with MetraSCAN 3D in a simplified, rich data processing environment.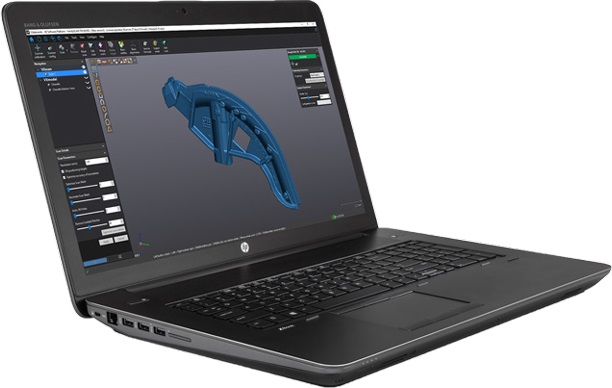 Software modules*
VXinspect™ – dimensional control software module for first product inspection or quality control.
VXmodel™ – Scan-to-CAD software module for finishing and preparing 3D scan data for use in any 3D printing or CAD solution.
* Sold separately
Creaform Support in Ukraine
When you buy a Creaform 3D scanner from 3DDevice, you get:
Free training to work with the device;
Installation of equipment on site throughout Ukraine;
Technical support during operation;
Highly qualified service.
Specifications
| | |
| --- | --- |
| Light source | 7 blue laser crosses |
| Volumetric Accuracy (mm/m) | 0,086 |
| Scan Range (mm) | 310 x 350 |
| Stand-off distance (mm) | 300 |
| Scanner type | Handheld |
| Additional extensions | HandyPROBE, C-Track, Virtual metrology lab, Portable Workstation, MaxSHOT 3D |
| Color scanning | No |
| Scan with marks | Yes |
| Part size range (m) | 0,2 – 6,0 |
| Scanning speed (points/s) | 800 000 |
| Scan Accuracy (mm) | Up to 0,035 |
| Volumetric Accuracy with MaxSHOT Next™ | Elite (mm/m) | 0,060 + 0,015 |
| Probing accuracy with HandyPROBE Next (mm/m) | 0,030 |
| Scan Depth (mm) | 250 |
| Point distance (mm) | 0,100 |
| Laser Class | 2M (safe for eyes) |
| Positioning methods | Targets (optional) |
| Supported file types | .dae, .fbx, .ma, .obj, .stl, .txt, .wrl, .x3d, .zpr, .3mf |
| Software | VXelements |
| Compatible Software | 3D Systems (Geomagic® Solutions), InnovMetric Software (PolyWorks), Metrologic Group (Metrolog X4), New River Kinematics (Spatial Analyzer), Verisurf, Dassault Systèmes (CATIA V5, SOLIDWORKS), PTC (Creo), Siemens (NX, Solid Edge), Autodesk (Inventor, PowerINSPECT) |
| Connectivity | USB 3.0 |
| System Requirements | HP ZBook 17, Intel Core i7 (6+ cores) – 2.6 GHz or more (must support AVX2 instructions), Windows 10 (64 bits), NVIDIA Quadro RTX5000 16 GB, OpenGL 4.5 and higher, Memory 64 GB, Solid-state drive (SSD) with at least 200 GB of free space |
| Weight Netto (kg) | Scanner: 1,49 kg; Probe: 0,5 kg; C-Track: 5,7 kg |
| Dimensions Netto (mm) | Scanner: 289 x 235 x 296; Probe: 68 x 157 x 340; C-Track: 1031 x 181 x 148 |
| Manufacturer country | Canada |
| Warranty period (months) | 12 |
| Certifications | EC Compliance (Electromagnetic Compatibility Directive, Low Voltage Directive), compatible with rechargeable batteries (when applicable), IP50, WEEE, Certified ISO 17025 |
| Patents | FR 2,838,198, EP (FR, UK, DE, IT) 1,492,995, US 7,487,063, CA 2,529,044 |
| Operating Temperature Range (°C) | 5 – 40 |
| Operating Humidity Range (%) | 10 – 90 |
Coordinate measuring machine Creaform MetraSCAN 3D