Description
3D scanner Creaform HandySCAN 307
3D scanner HandySCAN 307 by Creaform is a proven and reliable professional 3D scanner at an affordable price.
The SILVER series is part of the HandySCAN 3D™ line, the industry standard for metrology-grade portable 3D scanners. Using patented technologies, HandySCAN 3D provides accurate and repeatable 3D measurements of any complex surface in any environment.
The SILVER series of HandySCAN 3D is optimized to meet the needs of technology innovators and engineering professionals who are looking for a powerful, affordable and reliable way to improve product development, reduce time to market and reduce development costs.
Advantages of 3D scanner HandySCAN 307
Thanks to the development of portable measuring instruments in metrology, production control has become available directly on the production line. This significantly reduces the waiting time for test results and improves the quality of the product. At the same time, moving the inspection site from the lab directly to the job site presents challenges in terms of vibrations from running production equipment, tight-tuning requirements for measuring equipment, changes in temperature and humidity levels, and varying experience and skill levels of operators.
Accuracy
The HandySCAN 307 provides accurate and reproducible 3D measurements regardless of user settings or experience. Thanks to the TRUaccuracy dynamic reference technology, the movement of the 3D scanner or the vibration of the part during the scanning process does not affect the accuracy and high quality of the scan. TRUaccuracy is part of Creaform's technology foundations to create more accurate 3D optical metrology systems.
Creaform offers innovative concepts such as automatic positioning or dynamic snapping. They allow you to permanently bind the 3D scanner to the part using optical communication.
Accuracy – up to 0.040 mm.
Volumetric accuracy – 0,020 ± 0,100 mm/m.
High reproducibility and traceable certificate.
High level of detail.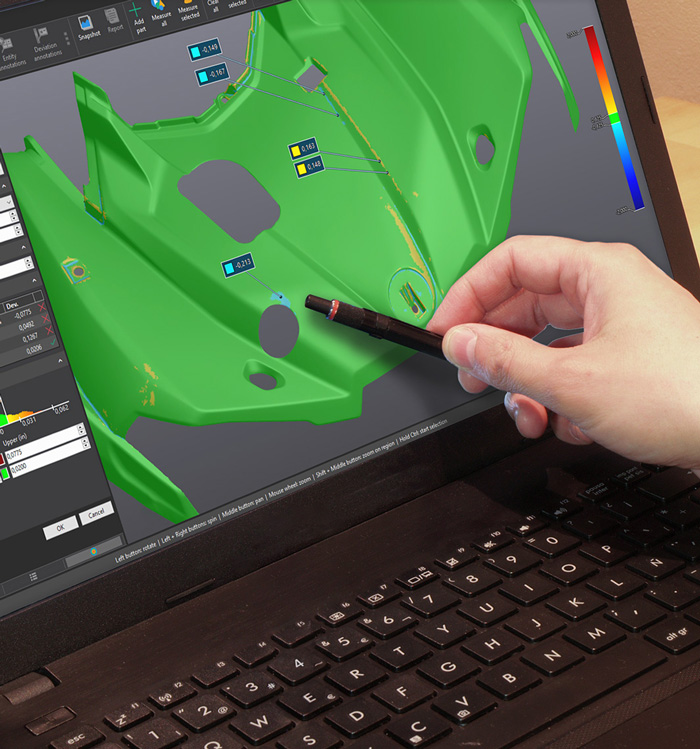 Proven and reliable technology
3D scanner HandySCAN 307 offers the best value for money on the market. It is a proven and reliable technology designed and manufactured in Canada. Trusted by over 5,000 users thanks to Creaform's commitment to attentive service and reliability.
The best in terms of price/performance ratio.
Designed and manufactured in Canada.
Over 5000 users worldwide.
Supported by a global team of engineers and technicians.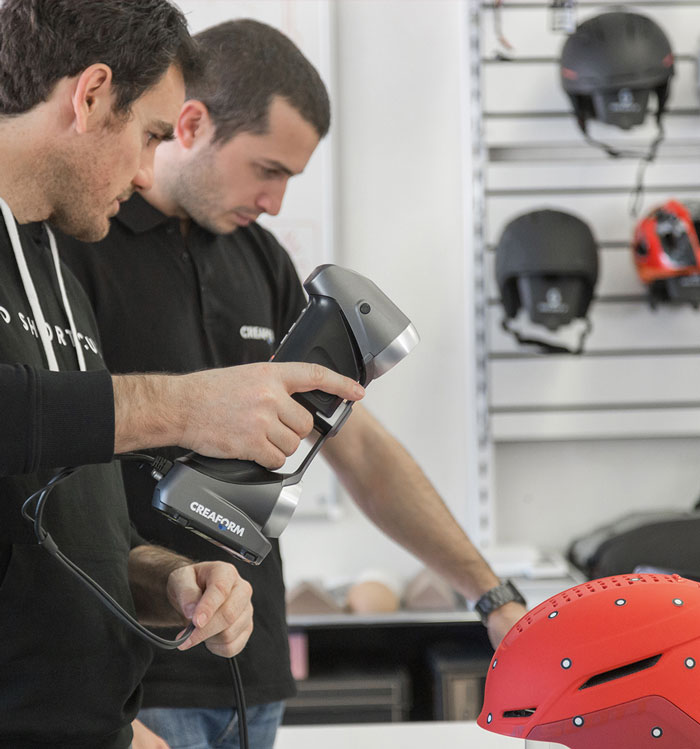 Portability
3D scanner HandySCAN 307 determines its position relative to the workpiece by triangulating optical reflectors. This technology helps achieve autonomy of the device, allowing you to take measurements while holding it in your hand, without resorting to additional tripods or other external tracking devices. It is a compact device that can be taken anywhere and used in any environment without compromising its performance.
Light and small – 0.85 kg – fits in a suitcase.
Self positioning with dynamic reference.
Scan on the go – use it indoors or outdoors.
Quick Setup – Install and run in less than 2 minutes.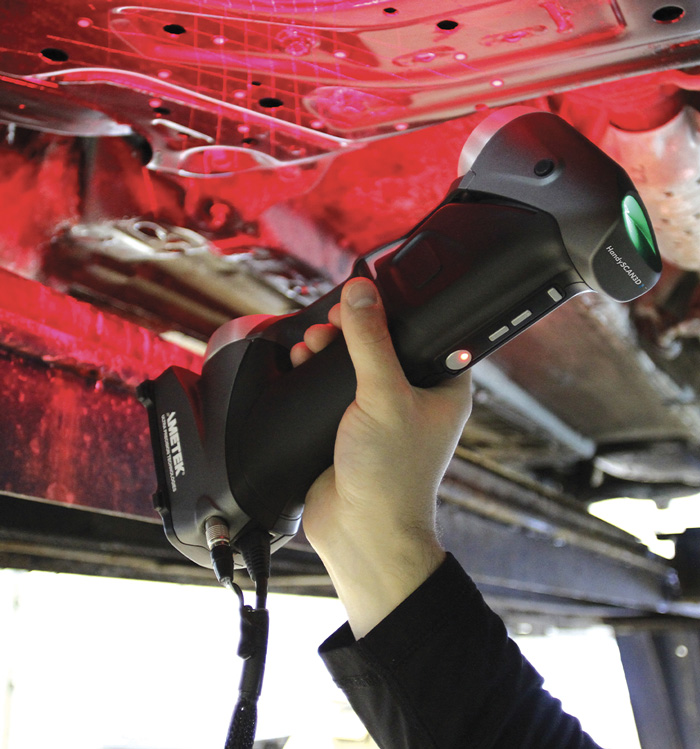 Simplicity and versatility
With a user-friendly interface and ergonomic design, this 3D scanner is easy to use and requires little training, regardless of user experience or knowledge level. Its versatility allows users to scan a variety of objects regardless of their size, complexity, material or color – all from the same device.
Plug and play.
Simple user interface and real-time visualization.
Masters complex and difficult surfaces.
One device for all shapes and sizes.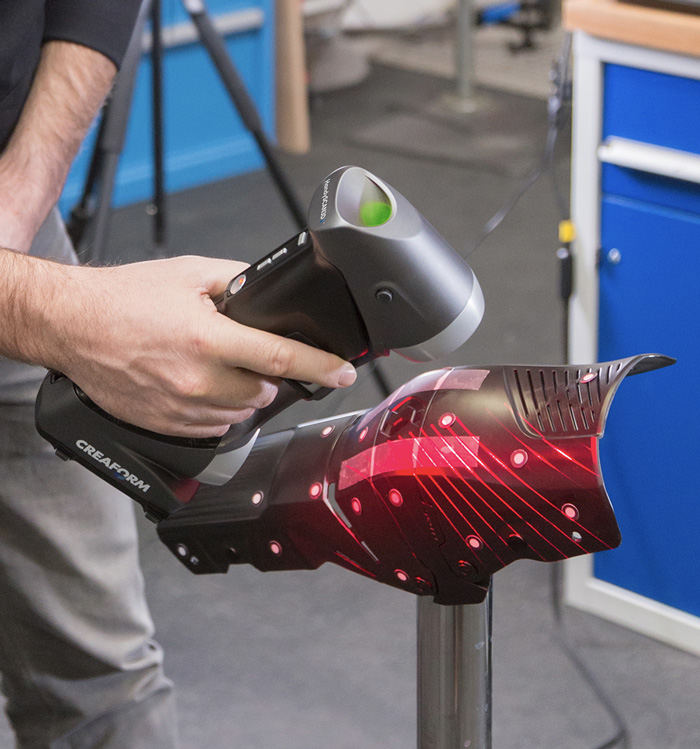 3D scanner HandySCAN 307
Quality optics. Reliable and maximum scan quality.
One additional laser line. Use to easily grab hard to reach places.
7 laser crossed lines. Quickly capture the entire field of view for fast scanning.
Color indicator of distance to the surface. For maximum scanning performance.
Multifunction buttons. Simple user-computer interaction.
Ergonomics and design. Lightweight, well balanced weight for comfortable use.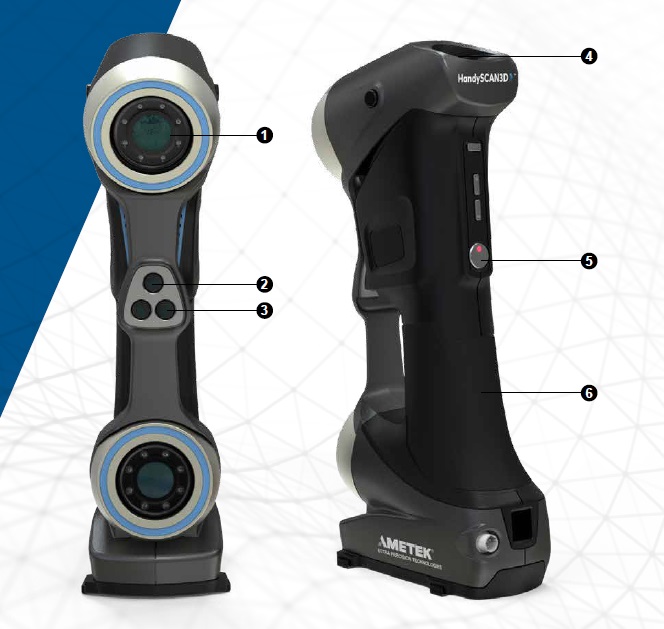 3D scanning software
VXelements™
HandySCAN 3D | SILVER series comes with VXelements, on which the entire suite of 3D scanning and measurement technologies is based. Here you will find all the necessary tools, from data collection to CAD software, in a convenient, simplified and elegant work environment.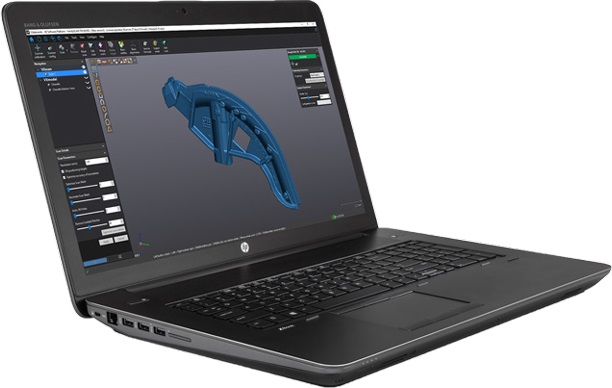 Software modules and add-ons*
VXinspect™ – dimensional inspection software module for first product inspection or quality control.
VXmodel™ – Scan-to-CAD software module for finishing and preparing 3D scan data for use in any 3D printing or CAD solution.
Pipecheck™ – pipeline integrity assessment software for non-destructive testing.
MaxSHOT 3D™ – this portable optical coordinate measuring system provides photogrammetry accuracy and speed for a wide range of applications involving large parts.
Portable Workstation – take full advantage of the portability of your Creaform 3D scanner with this accessory kit. This all-in-one flight case turns into a handy portable workstation. Specifically designed to optimize performance in the field and on the shop floor. It has a solid construction and rough wheels.
* Sold separately
Specifications
| | |
| --- | --- |
| Light source | 7 red laser crosses |
| Volumetric Accuracy (mm/m) | 0,020 + 0,100 |
| Scan Range (mm) | 225 x 250 |
| Stand-off distance (mm) | 300 |
| Scanner type | Handheld |
| Additional extensions | MaxSHOT 3D™, Portable Workstation |
| Color scanning | No |
| Scan with marks | Yes |
| Part size range (m) | 0,1 – 4,0 |
| Scanning speed (points/s) | 480000 |
| Scan Accuracy (mm) | Up to 0,04 |
| Volumetric Accuracy with MaxSHOT Next™ | Elite (mm/m) | 0,020 + 0,015 |
| Scan Depth (mm) | 250 |
| Point distance (mm) | 0,2 |
| Laser Class | 2M (safe for eyes) |
| Supported file types | .dae, .fbx, .ma, .obj, .ply, .stl, .txt, .wrl, .x3d, .x3dz, .zpr, .3mf |
| Software | VXelements |
| Compatible Software | 3D Systems (Geomagic® Solutions), InnovMetric Software (PolyWorks), Metrologic Group (Metrolog X4), New River Kinematics (Spatial Analyzer), Verisurf, Dassault Systèmes (CATIA V5, SOLIDWORKS), PTC (Creo), Siemens (NX, Solid Edge), Autodesk (Inventor, PowerINSPECT) |
| Connectivity | USB 3.0 |
| Weight Netto (kg) | 0,85 |
| Dimensions Netto (mm) | 77 x 122 x 294 |
| Manufacturer country | Canada |
| Certifications | EC Compliance (Electromagnetic Compatibility Directive, Low Voltage Directive), compatible with rechargeable batteries (when applicable), IP50, WEEE |
| Patents | CA 2,600,926, CN 200680014069.3, US 7,912,673, CA 2,656,163, EP (FR, UK, DE) 1,877,726, AU 2006222458, US 8,032,327, JP 4,871,352, US 8,140,295, EP (FR, UK, DE) 2,278,271, EP (FR, UK, DE) 2,230,482, IN 266,573, US 7,487,063, CA 2,529,044, EP (FR, UK, DE) 3,102,908, US 15/114,563, CN 201580007340X |
| Operating Temperature Range (°C) | 5 – 40 |
| Operating Humidity Range (%) | 10 – 90 |
Buy portable professional 3D scanner HandySCAN 307