Description
Coating for 3D Scanning AESUB Green
Matt coating for 3D Scanning AESUB Green is a self-disappearing aerosol agent for creating a thin matte coating on the surface of the scanned object. Supplied in a special can packaging for use in sprayers and automated 3D scanning. Mattifies the surface of the scanned object with an even, homogeneous layer. Helps optical scanning devices to digitize the surface relief of shiny, transparent, glossy, dark and mirror surfaces of scanned objects.
Modern scanning spray, self-expiring after ≈ 6 hours.
Container solution for sprayers. Ideal for large areas and automated scanning.
There is no need for cleaning.
Ideal for large areas and automated scanning.
Homogeneous layer with minimum layer thickness.
Does not contain pigments and titanium dioxide (TiO2).
Designed and tested by scanning experts.
One liter of spray is enough to matt the surface of 10 – 15 m2.
AESUB Green is a self-evaporating, long-last 3D scanning agent. Creates a uniform homogeneous coating on the surface of the object with a layer thickness of 10 – 20 microns. Used in spray guns for matting and digitizing large objects. Does not leave marks on the surface of the scanned object and surrounding objects, eliminating the time-consuming cleaning of the measurement environment and objects after scanning.
3D scanner spray applications: Engineering, Automotive, Aerospace, Energy, Architecture, Sculpture, Digital Archiving, Reverse Engineering, Optical Metrology, Measurement Services, R&D, Process Monitoring, Inline Scanning, Surface Inspection.
Matt coating spray workflow
Spray evenly over the entire scanned measurement surface from a distance of 15 – 20 cm using a spray gun. It is recommended to use nozzles with a nozzle diameter of 1 mm or more.
Scan the object normally after the spray dries.
The applied layer of AESUB Green automatically evaporates after scanning after 6 hours. Time-consuming cleaning of the surface from the coating is no longer needed.

Material Compatibility
Compatibility with materials for specific applications cannot be guaranteed. Users are advised to check compatibility with specific materials prior to use.
Storage conditions
AESUB Green should be stored in an upright position in a cool, dry place, avoiding direct sunlight.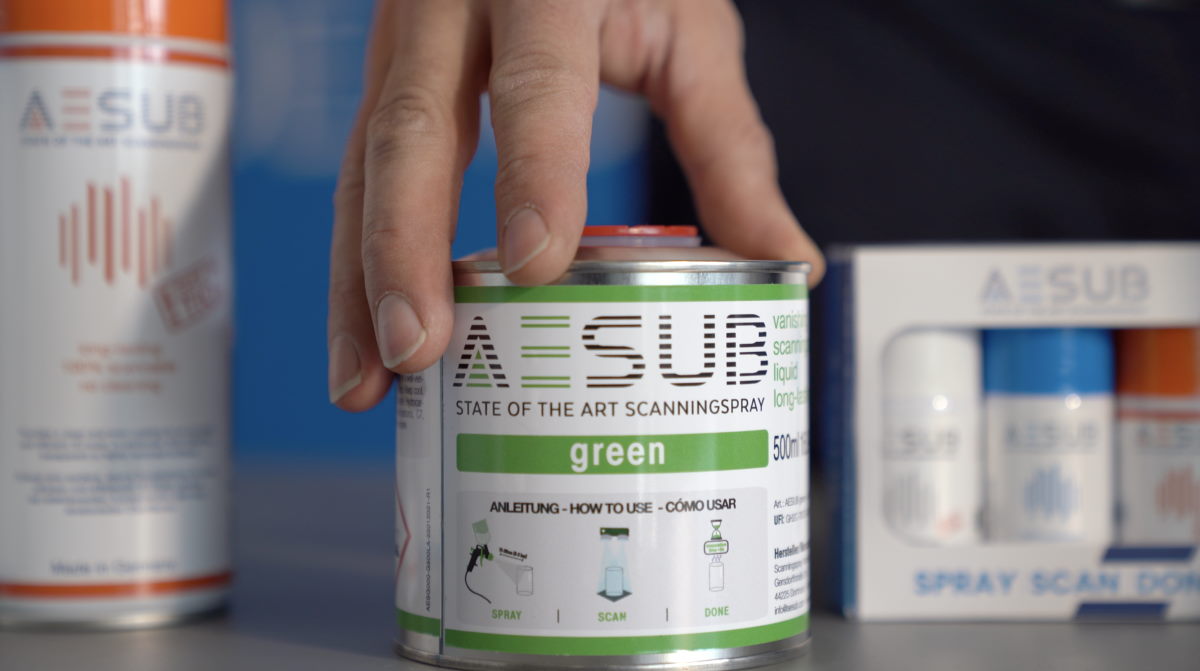 Buy in Ukraine matt 3D scanning coating