Description
3D scanner Creaform HandySCAN 700 buy in Ukraine
The HandySCAN 700 3D Scanner from Creaform is a powerful new generation 3D scanning tool. The scanner is a reliable metrology-class tool for all stages of your product lifecycle management. Processes such as concept development, design, production and maintenance become simple and convenient with this 3D scanner.
Having completely redesigned and retained the advantages of the previous scanner model, Creaform created the new HandySCAN 700 model. Along with scanning speed up to 25% faster than its predecessor, high accuracy up to 0.03 mm and resolution up to 0.05 mm, this 3D scanner surprises with its mobility and ease of management. 7 high-precision lasers and the TRUaccuracy dynamic referencing system, which is part of the metrological foundations of Creaform, are responsible for the digitization result at once. Permanently linking the scanner to the part to be scanned using optical coupling gives amazingly accurate results, even in difficult production environments where machine vibrations are inevitable.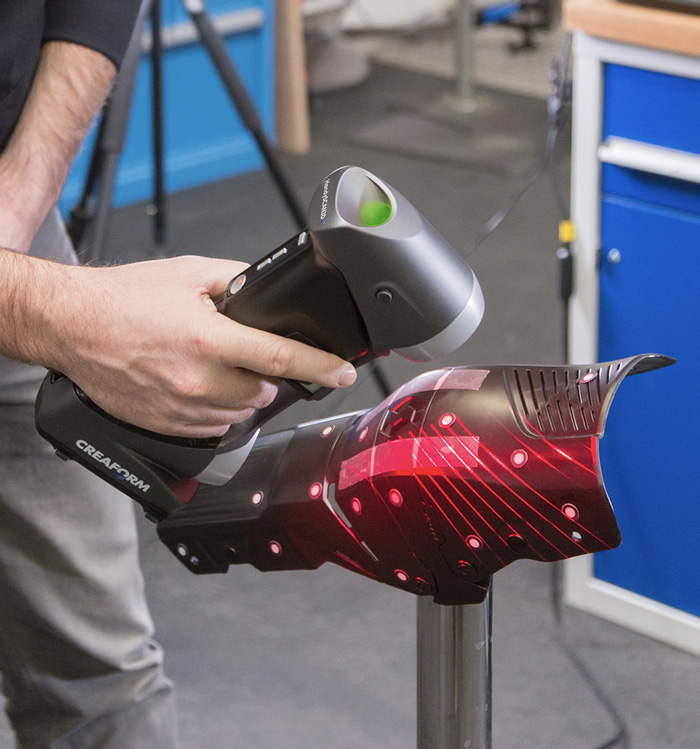 Having prepared HandySCAN 700 for work within just 2 minutes, you can easily and quickly create a virtual model of your object in almost any real conditions, watching the result of digitization on the monitor in real time.
It is the most versatile 3D scanner available for metrological inspection, making it an excellent choice for industries that need to quickly and accurately assess the physical shape of objects.
A truly portable 3D scanner that comes with a battery for battery life and a handy carrying case, and weighs only 0.85 kg.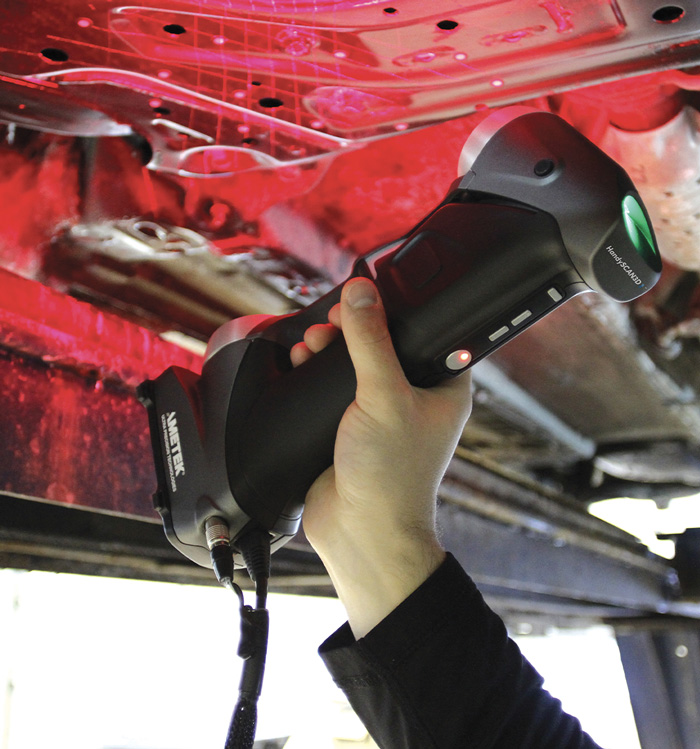 Benefits of Creaform 3D Scanner:
In comparison with the previous model, it has higher accuracy and speed of work, while being more compact and weighs less;
Repetition of the original with accuracy up to 0.03 mm;
The measurement is independent of external conditions;
Portable case;
Autonomous work;
Clear management;
Convenient and clear user interface;
Displaying results in real time;
Absolutely safe for the eyes.
3D scanner HandySCAN 700
Quality optics. Reliable and maximum scan quality.
One additional laser line. Use to easily grab hard to reach places.
7 laser crossed lines. Quickly capture the entire field of view for fast scanning.
Color indicator of distance to the surface. For maximum scanning performance.
Multifunction buttons. Simple user-computer interaction.
Ergonomics and design. Lightweight, well balanced weight for comfortable use.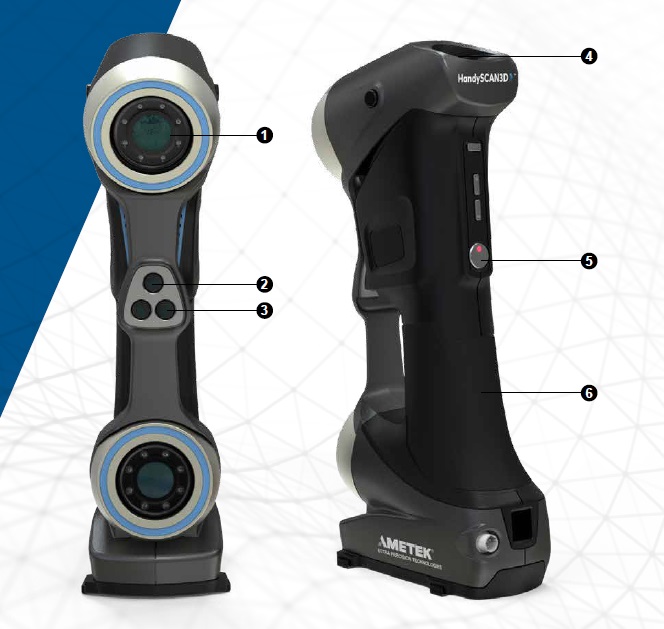 3D scanning software
VXelements™
HandySCAN 3D | SILVER series comes with VXelements, on which the entire suite of 3D scanning and measurement technologies is based. Here you will find all the necessary tools, from data collection to CAD software, in a convenient, simplified and elegant work environment.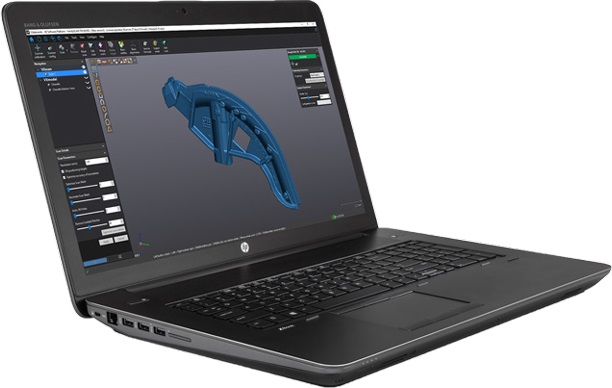 Software modules and add-ons*
VXinspect™ – dimensional inspection software module for first product inspection or quality control.
VXmodel™ – Scan-to-CAD software module for finishing and preparing 3D scan data for use in any 3D printing or CAD solution.
Pipecheck™ – pipeline integrity assessment software for non-destructive testing.
MaxSHOT 3D™ – this portable optical coordinate measuring system provides photogrammetry accuracy and speed for a wide range of applications involving large parts.
Portable Workstation – take full advantage of the portability of your Creaform 3D scanner with this accessory kit. This all-in-one flight case turns into a handy portable workstation. Specifically designed to optimize performance in the field and on the shop floor. It has a solid construction and rough wheels.
* Sold separately
HandySCAN 700 specifications:
| | |
| --- | --- |
| Light source | 7 red laser crosses (+ 1 extra line) |
| Volumetric Accuracy (mm/m) | 0,020 + 0,060 |
| Scan Range (mm) | 275 x 250 |
| Stand-off distance (mm) | 300 |
| Scanner type | Handheld |
| Additional extensions | MaxSHOT 3D™, Portable Workstation |
| Color scanning | No |
| Scan with marks | Yes |
| Part size range (m) | 0,1 – 4,0 |
| Scanning speed (points/s) | 480000 |
| Scan Accuracy (mm) | Up to 0,03 |
| Volumetric Accuracy with MaxSHOT Next™ | Elite (mm/m) | 0,020 + 0,015 |
| Scan Depth (mm) | 250 |
| Point distance (mm) | 0,2 |
| Laser Class | 2M (safe for eyes) |
| Supported file types | .dae, .fbx, .ma, .obj, .ply, .stl, .txt, .wrl, .x3d, .x3dz, .zpr, .3mf |
| Software | VXelements |
| Compatible Software | 3D Systems (Geomagic® Solutions), InnovMetric Software (PolyWorks), Metrologic Group (Metrolog X4), New River Kinematics (Spatial Analyzer), Verisurf, Dassault Systèmes (CATIA V5, SOLIDWORKS), PTC (Creo), Siemens (NX, Solid Edge), Autodesk (Inventor, PowerINSPECT) |
| Connectivity | USB 3.0 |
| Weight Netto (kg) | 0,85 |
| Dimensions Netto (mm) | 77 x 122 x 294 |
| Manufacturer country | Canada |
| Certifications | EC Compliance (Electromagnetic Compatibility Directive, Low Voltage Directive), compatible with rechargeable batteries (when applicable), IP50, WEEE |
| Patents | CA 2,600,926, CN 200680014069.3, US 7,912,673, CA 2,656,163, EP (FR, UK, DE) 1,877,726, AU 2006222458, US 8,032,327, JP 4,871,352, US 8,140,295, EP (FR, UK, DE) 2,278,271, EP (FR, UK, DE) 2,230,482, IN 266,573, US 7,487,063, CA 2,529,044, EP (FR, UK, DE) 3,102,908, US 15/114,563, CN 201580007340X |
| Operating Temperature Range (°C) | 5 – 40 |
| Operating Humidity Range (%) | 10 – 90 |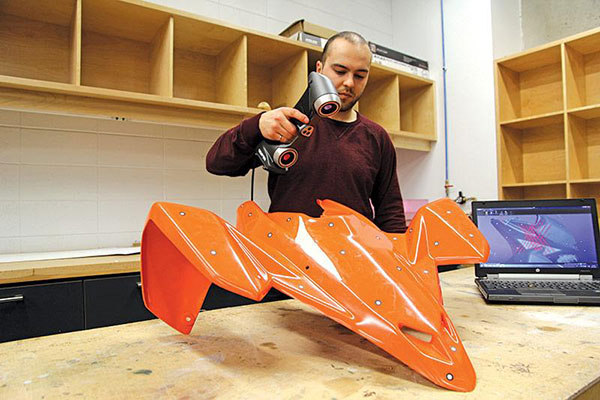 Delivery package:
Scanner
USB cable
Charger
3 additional sockets
Calibration plate
4 labeled packs
Flash drive with software
Wiping cloth
Mark scraper
Reference pointer and VXelements software
Case
High-precision metrological-grade 3D scanner
3D scanning with Creaform HandySCAN 700 for reverse engineering and quality control, video: