Description
3D printer MakerBot Method X Carbon Fiber
The MakerBot Method X Carbon Fiber 3D printer is a production workstation that has the ability to print with abrasive materials.
MakerBot has unveiled its Method X Carbon Fiber 3D printer, which is presented as a professional, high-performance, out-of-the-box device that solves a wide range of complex tasks without additional effort. With two interchangeable modular extruders equipped with smart sensors, Method X Carbon Fiber offers high-speed 3D printing 2x faster than leading desktop counterparts. Its up to 190 x 190 x 196 mm air-circulating build chamber, heated to 110°C, creates the ideal conditions for high-precision printing of complex and durable parts made of ABS engineering plastics and other materials. As with other 3D printers in the series, the Method X Carbon Fiber is developed using Stratasys patents to ensure the final product's dimensional accuracy, quality and reliability of work results comparable to industrial devices.
Print rigid, lightweight, and heat-resistant composite parts, then switch between material groups with 6-in-1 modular extruders.
Best for production:
Tools and fixtures.
End use parts.
functional prototypes.
MakerBot Method X Carbon Fiber Features
Method X Carbon Fiber technologies include professional components for a seamless CAD to Part workflow.
Included extruder 1C – optimized for long-term work with abrasive composite materials.
Closed working chamber heated by circulation up to 110 °C. Uniform heating and control of the working environment – parts become 2 times stronger in the Z-axis.
Maximum extruder temperature 300 °C.
Sealed compartments for dry storage of materials.
Precision soluble substrates.
Heavy-duty frame that eliminates vibration and deformation of the body.
Modular high performance extruders. Convenient and fast switching between extruders.
21 built-in sensors and automation functions.
Remote monitoring and control over Wi-Fi.
25 compatible CAD file types.
5 inch full color capacitive touch screen.
Over 300,000 hours of reliability testing on over 150 printers.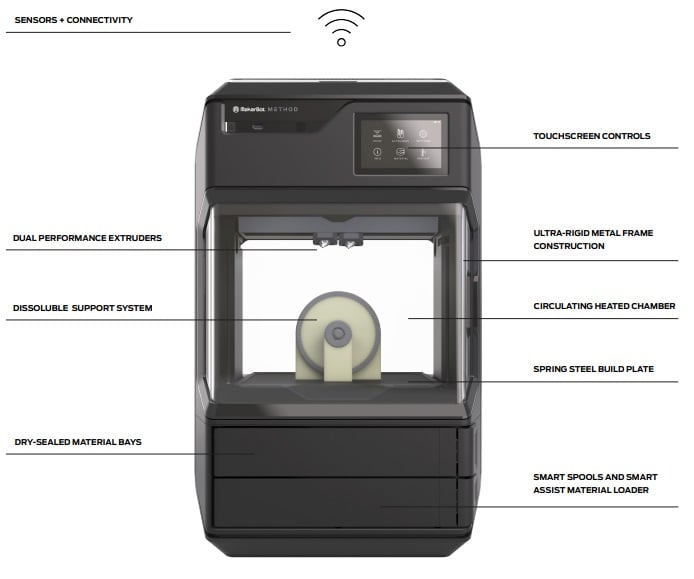 To meet the rigorous industry standards, MakerBot has broken away from the open source tradition by offering a series of printers based on a completely new architecture. The MakerBot Method X Carbon Fiber offers engineers and designers the industrial performance and flexibility to bring ideas to life quickly at an affordable price.
Supported Consumables
With a closed chamber heated to 110°C and interchangeable modular extruders heated to 300 °C, the range of materials available for Method X Carbon Fiber is very wide. From traditional PLA and ABS, to various durable and specialty materials such as TOUGH, PETG, Nylon, ASA, Durabio, PC, as well as reinforced plastics such as N12 Carbon Fiber, ABS Carbon Fiber, ABS Kevlar, and soluble support materials.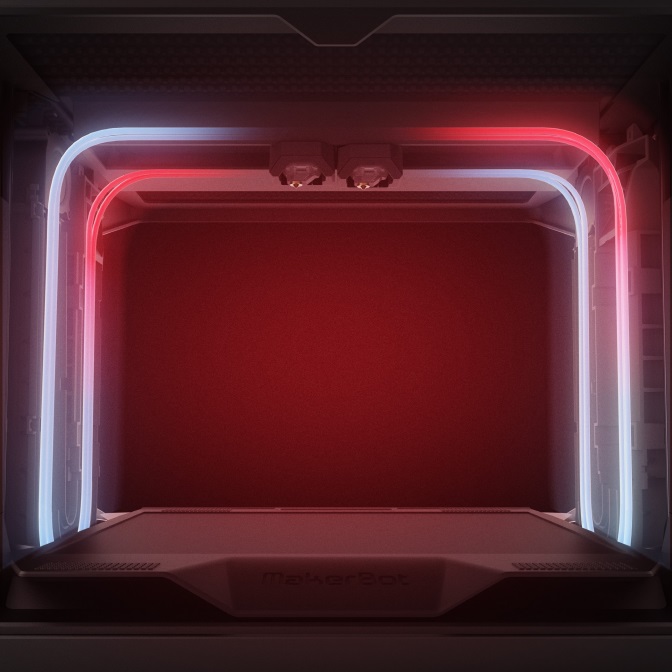 Sturdy frame construction
To achieve the stability and accuracy of printing, it is necessary to compensate for deformations and vibrations of the 3D printer body. To prevent them, the MakerBot Method X Carbon Fiber design is optimized with an ultra-rigid metal frame. It runs the entire length of the hull to compensate for flex. Fewer flex means more stable prints with greater detail accuracy and fewer failures.
Fast printing of durable and precise parts
The Dual Performance high-performance extruder system is designed from the ground up to reduce print times and ensure every part is dimensionally accurate to ±0.2mm. Smart sensors for media management and print protection. Each printer extruder contains a set of sensors that detect problems such as plastic filament breakage or plastic jams in the extruder during the entire print life.
The 19:1 ratio gear system provides the force needed to evenly feed the plastic filament into the nozzle. The heated working chamber and table, as well as a number of sensors, carry out a controlled temperature regime during the entire printing time. They ensure the quality of each layer, starting from the first. Uniform controlled cooling of the part during the printing process gives dimensional accuracy and improved layer adhesion. Uncompromising bonding of the layers makes the part strong in the Z-axis without warping or twisting.
The extended heat core increases heat distribution, and as a result, reduces the heating time to 60 seconds.
The dual extrusion system in MakerBot's Method X Carbon Fiber, when used in conjunction with soluble PVA, can create complex geometries.
The set includes extruders:
Model Extruder 1C
Support Extruder 2A
Support Extruder 2XA
Automated Industrial Printing System
MakerBot Print software works with 25 CAD file types – work with the programs you're used to. Own project exchange platform Cloud Management. Remote printer management and printing, automated maintenance and support procedures. Full CAD integration with AUTODESK Fusion 360, AUTODESK Inventor and Solidworks.
3D printer Method X CF. Optimized material storage
The MakerBot Method X Carbon Fiber offers a dry-tight media compartment as a way to keep materials stable. This is an important parameter that directly affects the quality of printing, the control of which was previously available only in industrial 3D printers.
A set of built-in sensors ensures that your material is stored in the optimal environment.
The smart material management system of the printer controls the loading and self-feeding of materials to the extruder. The user only needs to insert media and the printer does the rest.
Exceptional and reliable performance
The MakerBot X Carbon Fiber 3D printer delivers industrial-grade performance for one-third the cost of a 1-year industrial 3D printer. Using 3D printing to reduce design risk, testing prototypes and precision engineered parts minimizes costs at a later stage in the production cycle and allows products to be brought to market faster.
Specifications
Printing technology
FDM
Minimum layer height (micron)
20
Build Field (mm)
190x190x196 (152x190x196 см for dual printing)
Ø of plastic (mm)
1.75
Print temperature (°C)
Above 270
Number of extruders
2
Chamber type
Closed
Heating the chamber
Circulating Heated Chamber
Plastic drying
Yes
Autocalibration
Yes
Feeder type
Direct
Nozzle Diameter (mm)
0.4
Printing accuracy (µm)
200
Print speed (mm/s)
Up to 2x faster than desktop 3D printers
Max Material Flow Rate: ~50 mm³ per sec
Maximum carriage speed (mm/s)
Up to 500
Maximum nozzle temperature (°C)
300
Maximum chamber temperature (°C)
110
Platform material
Flexible Steel Build Plate
Reusable Grip Surface
Features
Closed working chamber heated with circulation to 110 °C. Maximum extruder temperature 300 °C. Sealed compartments for dry storage of materials. Precision soluble substrates. Heavy-duty frame that eliminates vibration and body deformation. Modular Dual Performance Extruders. 21 built-in sensors and automation functions. Remote monitoring and control by Wi-Fi. 25 compatible CAD file types. 5-inch full color capacitive touchscreen. Over 300,000 hours of reliability testing on over 150 printers.
Camera Resolution (pixels)
640×480
Extruder Thermal Core Length (mm)
48.2
Max Extruder Drive Torque (Newtons)
200
Printer Automation
Automatic Z Calibration, Automatic Nozzle Calibration, Automatic Material Loading
Supported Materials
PLA, TOUGH, PETG, PETG ESD, PETG CF, Metal UF 316L, Nylon, N6 Carbon Fiber, N12 Carbon Fiber, SEBS 95A, ABS, ABS-R, ABS Carbon Fiber, ABS EC, ABS ESD, ABS Kevlar, ASA, Durabio, PC-ABS, PC-ABS FR, PC PBT, Polylite, Polymax PC, Polymax FR, PVA, RapidRinse, SR-30
Operating system
Windows (7, 10) / Mac OS X (10.9+)
Printer control
5″ Full-Color Capacitive Touch Screen
Body material
Aluminum Die Cast Base
Extruded Aluminum Uprights
Steel Weldment Gantry Frame
Additional Information
Print Modes Tuned and Optimized for:
100 microns – High Quality Print Mode (Coming Soon)
200 microns – Balanced Print Mode
Supported file types
MakerBot (.makerbot), STL (.stl), SolidWorks (.sldprt, .sldasm), InventorOBJ (.ipt, .iam), IGES (.iges, .igs), STEP AP203/214 (.step, .stp), CATIA (.CATPart, .CATProduct), Wavefront Object (.obj), Unigraphics/NX (.prt), Solid Edge (.par, .asm), ProE/Creo (.prt, .asm), VRML (.wrl), Parasolid (.x_t, .x_b)
Software
MakerBot Print, MakerBot Mobile
Connectivity
USB Drive, USB, Ethernet, Wi­Fi
Power supply
100 – 240 V | 8.1A – 3.4A, 50 / 60 Hz | 800 W max
Storage Temperature (°C)
0 – 38
Weight Netto (kg)
29.5
Dimensions Assembled (mm)
437x413x649
Weight Brutto (kg)
37.1
Dimensions Brutto (mm)
765x500x555
Manufacturer country
USA
Warranty
Free 1-Year Extended Warranty
Supported Plans: MakerCare Gold (2 Years), MakerCare Platinum (3 Years)
Operating Temperature Range (°C)
15 – 26
Operating Humidity Range (%)
10 – 70
Buy Method X Carbon Fiber 3D printer in Ukraine