Description
Buy biocompatible elastic BioMed Elastic 50A Resin
On this page you can buy BioMed Elastic 50A Resin – photopolymer for 3D printing on Formlabs printers.
The new biocompatible BioMed Elastic 50A for medical 3D printing is the softest elastomeric material in the BioMed biocompatible resin library. 3D printing of flexible and soft custom products from BioMed Elastic 50A Resin provides new opportunities for medical professionals and medical device developers.
Direct 3D printing of medical products increases efficiency and provides patients with increased comfort. Helps create transparent soft tissue models that surgeons can refer to during operations. Using BioMed Elastic 50A Resin for direct printing of devices or models reduces labor time and costs for applications that require comfort, biocompatibility and transparency. This material is ISO 10993 and USP Class VI certified and manufactured in an FDA registered ISO 13485 facility and can be used for long term skin contact (>30 days) and short term mucosal contact (<24 hours).
What is BioMed Elastic 50A Resin for?
3D printing with BioMed Elastic 50A Resin opens up new opportunities for medical innovation. Thanks to this technology, it is possible to create comfortable medical devices, individually selected for each patient, as well as medical models of soft tissues that help surgeons during operations.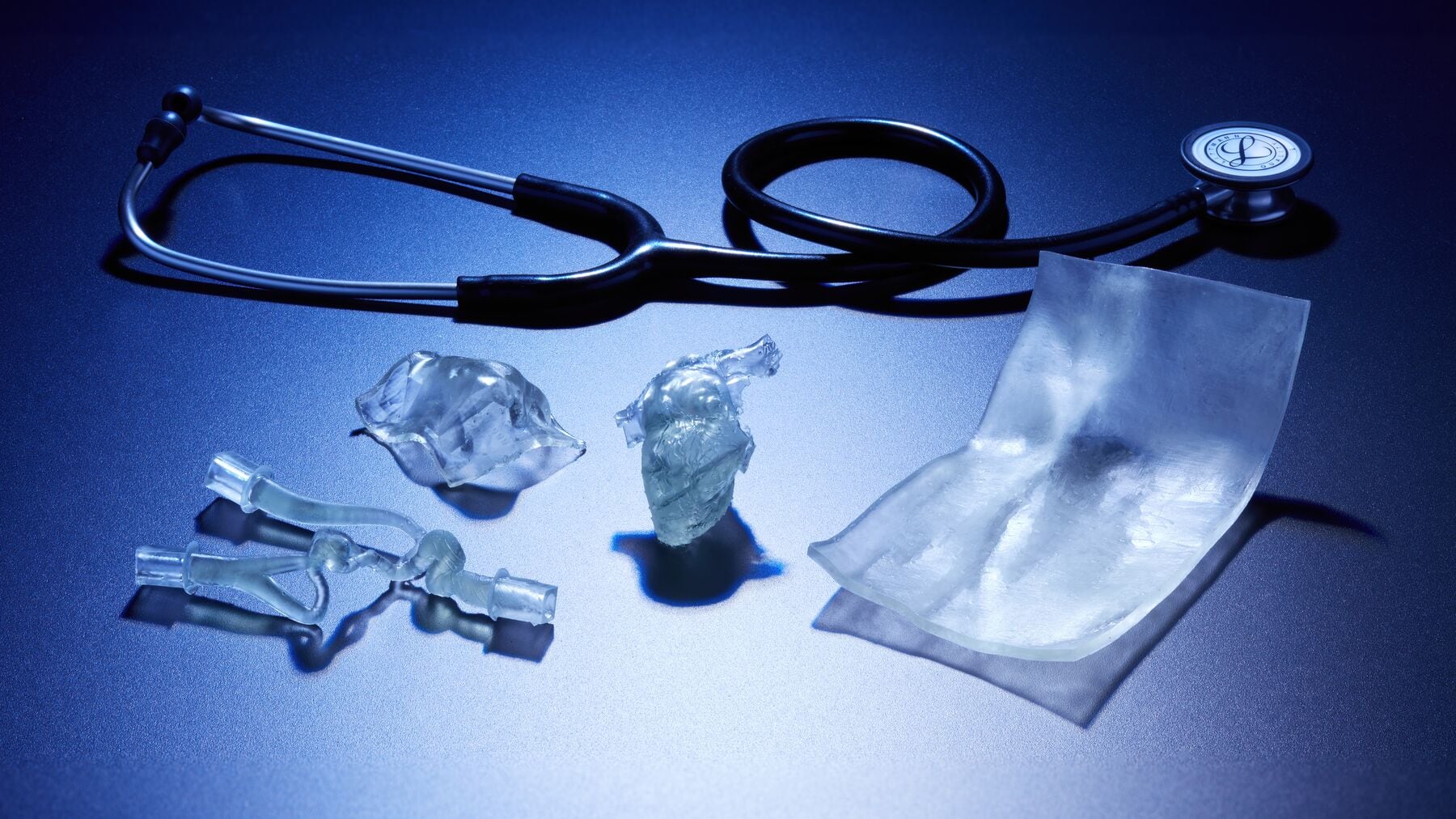 Material properties
Comfortable. Mass-produce personalized medical-grade parts that meet individual customer needs.
Softness. 3D printing with BioMed Elastic 50A creates soft tissue models that can be used to practice operations and train surgeons. These models have the same softness and biomechanical characteristics as human tissue, making them ideal for creating full-sized hearts, gastrointestinal tract models, or small complex neurovascular models for use in the operating room.
Transparency. Create transparent and clear models with BioMed Elastic 50A that do not hide how tools or objects move inside parts.
Medical material, biocompatible parts. The material is suitable for biocompatible applications with long-term dermal (>30 days), short-term mucosal contact (<24 hours), and USP Class VI certificates.
Ultimate Tensile Strength – 2.3 MPa
Stress at 50% Elongation – 1 MPa
Stress at 100% Elongation – 1.3 MPa
Elongation – 150%
Tear Strength – 11 kN/m
Hardness Shore A – 50A
Soft flexible resin for medical 3D printing
Direct 3D printing of soft, elastic parts that require biocompatibility with BioMed Elastic 50A Resin*.
Convenient medical products that require prolonged contact with the skin.
Soft tissue models including organs, muscles, skin and small vasculature.
*Unlike Formlabs Dental Resins, no intended uses are provided for BioMed Resins. Material properties may vary based on part design, manufacturing practices, and other methods. It is the manufacturer's responsibility and its respective customers and end-users to determine the biocompatibility and performance of all printed parts for their respective application and use. To instill confidence in potential users, Formlabs has tested biocompatibility and sterilization compatibility for common use cases and manufactures BioMed Resins in an ISO 13485-certified facility. We can offer representative examples of what customers have done with our products and the supporting documentation we make freely available.
Compatibility
Resin tank compatibility: Form 3 LFS, Form 3L Tank.
Layer height: 100 microns.
Certified for biocompatibility.
Recommended shelf life of the cartridge: 24 months.
Requires final polymerization.
Note. Print options for this material may not yet be available on Form 3L and Form 3BL printers. For more information visit the Formlabs support page.
Buy elastic resin for medical 3D printing in Ukraine
Data Sheets:
BioMed Elastic 50A Resin TDS (EN)