Description
Solid Edge SHINING 3D Edition Software
Solid Edge Shining 3D Edition is a handy and powerful 3D design tool to help you bring your creative ideas to life.
SHINING 3D has partnered with SIEMENS PLM software, a leading global provider of industrial software solutions, to offer users the Solid Edge SHINING 3D Edition software. This next generation digital innovation platform includes reverse engineering, generative design and modeling along with a CAD tool on a single platform.
SHINING EinScan 3D series 3D scanners integrated with Solid Edge SHINING 3D Edition provide users with a solution encompassing 3D Digitization – Design & Modeling – Additive Manufacturing to create much higher quality 3D data for manufacturing.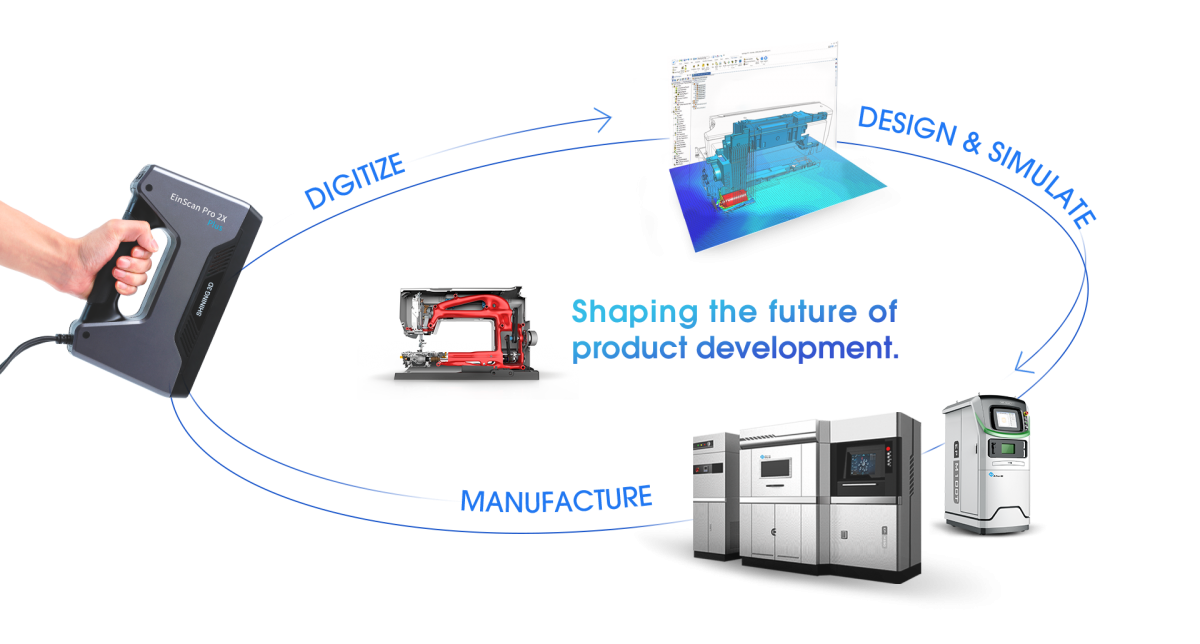 SHINING 3D software
Better transition and reuse from 2D or 3D
Moving from 2D to 3D is the first step towards unlocking the true potential of a company. Currently, most businesses on the market are still using 2D CAD and are concerned about its shortcomings. Solid Edge SHINING 3D Edition provides a cost effective and efficient complete process solution for moving from 2D to 3D design intent. Users can take DWG or DXF drawings and use them to define and manage assembly diagrams, reducing production downtime due to rework.
Basic modeling capabilities. Sequential modeling
SHINING 3D EinScan 3D Linear Scanners provide users with a wide selection of 3D desktop 3D scanner and handheld 3D scanners integrated with Solid Edge software, accelerating design efficiency and satisfying a wide range of applications including engineering, art, customization, education and etc.
Ease of direct modeling with parametric design control. Simplify the process by avoiding the history tree, giving the user the ability to edit quickly and flexibly.
– Create new concept designs quickly, easily respond to change requests, and update multiple parts in an assembly at the same time.
– Treat data from multiple CADs just like you would your own files, maintaining seamless collaboration with suppliers and partners
Features:
Dramatically improve product design efficiency with Siemens Parasolid technology
This software seamlessly merges traditional b-rep solid models with triangular mesh models without tedious and error-prone conversions. It allows traditional b-rep operations to be performed on 3D data and digitally scanned models created from generative design, reducing rework and supporting modern additive manufacturing processes for complex shapes.
Scan, edit and create products with new capabilities
Many teams develop products using components imported from other CAD systems. With the rapid growth of high-resolution 3D scanners, even legacy parts developed on a drawing board can be digitized and reshaped to fit modern designs without a complete overhaul. Solid Edge software provides tools that support reverse engineering processes.
Create an optimal design between weight and strength using topology optimization
In addition to powerful topology-optimized design tools, generative design accelerates the creation of lighter components ideal for immediate production through modern additive processes (upgrade to premium). Or use Solid Edge SHINING 3D Edition (premium) to further refine the shape for more traditional manufacturing.
Modeling tools to meet your needs
By starting modeling early in the design, changes are made when they are easiest, lead times are reduced, and manufacturing costs can be reduced. And accurate modeling of complete models reduces the number of physical prototypes and further reduces time and cost.
Direct output of models to your 3D printer
It can support the output of part models to 3D printers using the 3D Print command. Record your parts in .stl and .3MF formats, or send them directly to the Microsoft 3D Builder app. This allows for on-site printing with automatic print preparation including color printing capability.
Solid Edge SHINING 3D Edition Software buy